From marketing efforts to workflows across your business organization, automation can streamline processes, save time, reduce errors, and prevent the kind of burnout that's fueled the Great Resignation for the past two years.
Today's managers spend up to

54 percent

of their time on administrative tasks. But while automated emails and scheduled task reminders are pretty much a given at this point, many companies are missing the opportunity to let tech handle another business must that's prevalent all year round: corporate gifts.
A recent poll
reveals that just about every department can benefit from some form of automation, with marketers reporting they save 25 hours a week thanks to tools and features that do the work for them. At the same time, customer service reps say they save 16 hours, and human resources departments save eight hours.
Why Automate Corporate Gifts? 5 Major Benefits to Crossing Them Off Your List
With time savings in mind, consider how often gifting comes into play for employee appreciation initiatives, marketing campaigns, customer retention efforts, and of course, the holiday season. Don't you think your team could save even more time with a platform that streamlines the process of doling out gifts on behalf of your company?
1. Eliminate One-Off Trips to the Store for Last-Minute Gifts
How often does a manager overhear that their team member is celebrating a birthday and then scramble to find an appropriate gift in the middle of the workday? When this happens, do they have a budget to adhere to? And how is that expense reported to your accounting team?
When corporate gifts are up to everyone, your business pays for that lack of process in lost time and additional expenses. By choosing one gifting solution for all your corporate gifts, you can eliminate the hassle and confusion that comes with a one-off, do-as-you-please gift policy.
Quick Tip: Giftogram empowers you to create gifting budgets for each manager on your team. Using their own accounts, managers can create and send digital gift cards instantly via email for any of their departmental gifting needs. With Giftogram, there's no need to guess what Michael will like best. Recipients can choose their gift from over 200 of today's hottest retailers. Just send, and you're set.
As for tracking and reporting, Giftogram handles it for you, recording all the information you'll need to track gift spending and report corporate gift transactions at tax time.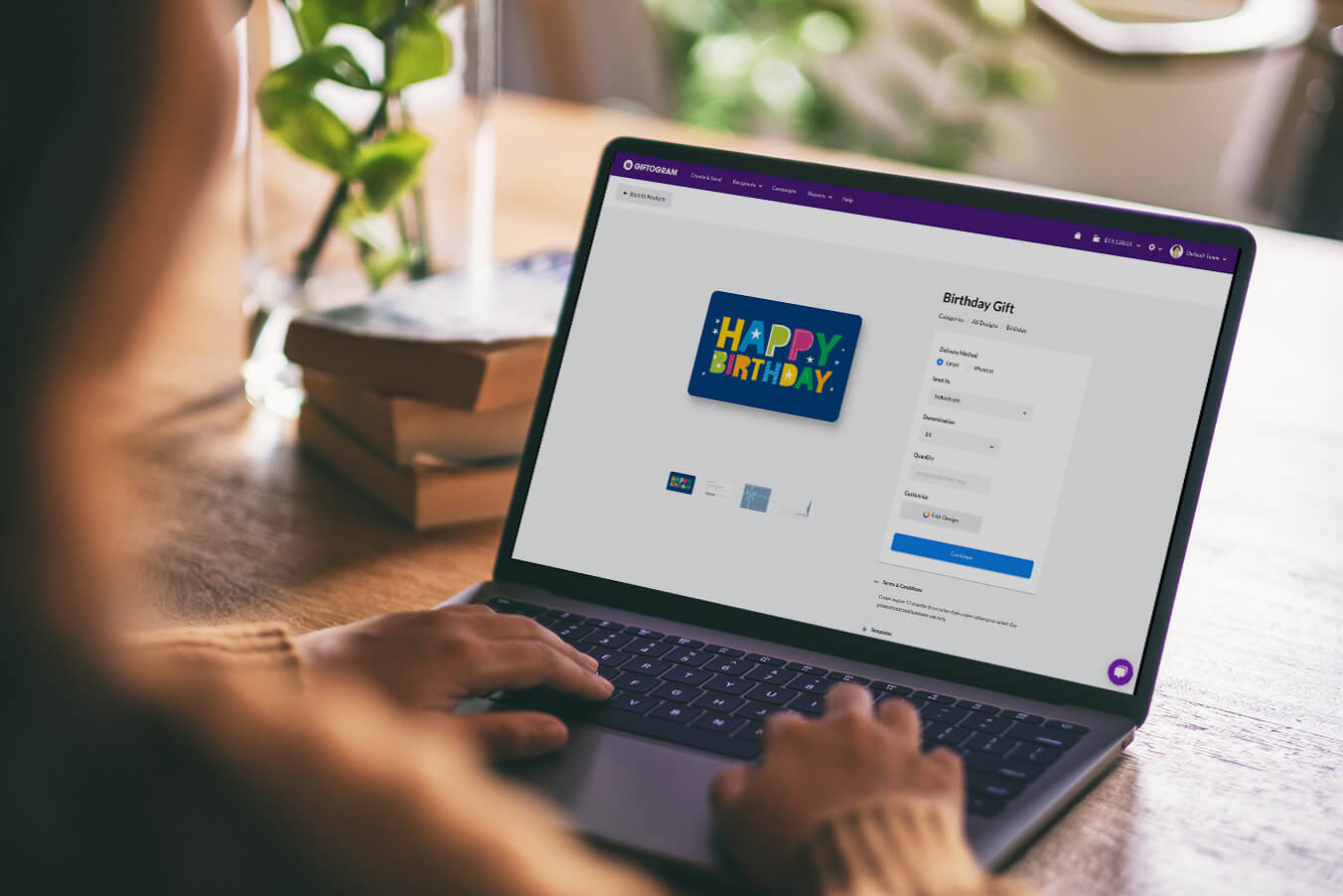 2. Schedule Employee and Customer Birthday and Anniversary Gifts
You can avoid surprise birthdays and anniversaries altogether by fully automating the majority of gifts for your employees and customers across the board. With Giftogram, you only need to upload those special days along with employee and customer email addresses once. Next, choose your gift card design or upload your own and add a personal message. Once it's scheduled, you never need to fret about missing an important date again.
Quick Tip: Automate your gifting by using a Smart Campaign. Simply select your recipients and the trigger date for your gift like a birthday or anniversary.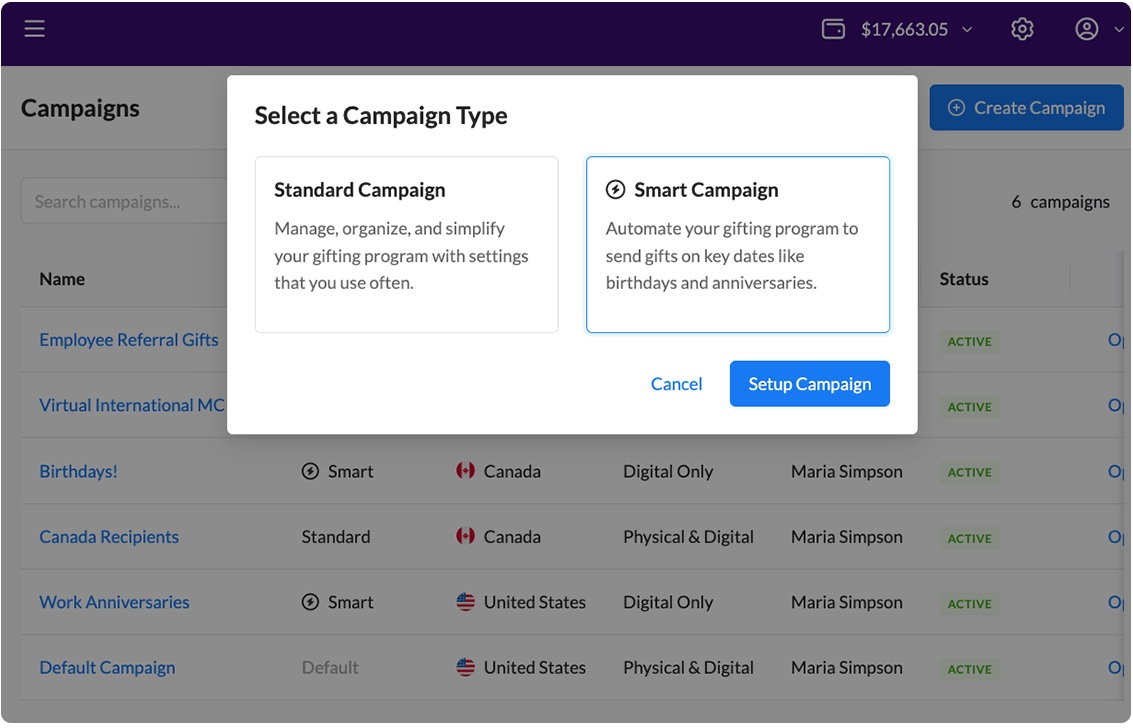 3. Send Bulk Holiday Gifts to Employees and Vendors
Holiday gifts are anything but joyful when you're in charge of organizing them for your business. Fortunately, Giftogram makes it easy to send bulk holiday gifts on behalf of your company to your employees and vendors. In the same way you'd schedule digital gift cards to send for employee birthdays, you can choose a festive holiday gift card design and write your holiday message on a matching email. Next, choose the denomination, send date, and recipients, and you're good to go.

Quick Tip: At most companies, the vendors each department relies on to keep certain things in motion are a mystery to the next team over. Instead of leaving it to one person or team to manage all the vendor gifts, add funds to department managers' Giftogram accounts so they can upload vendor info, schedule, and send on their own.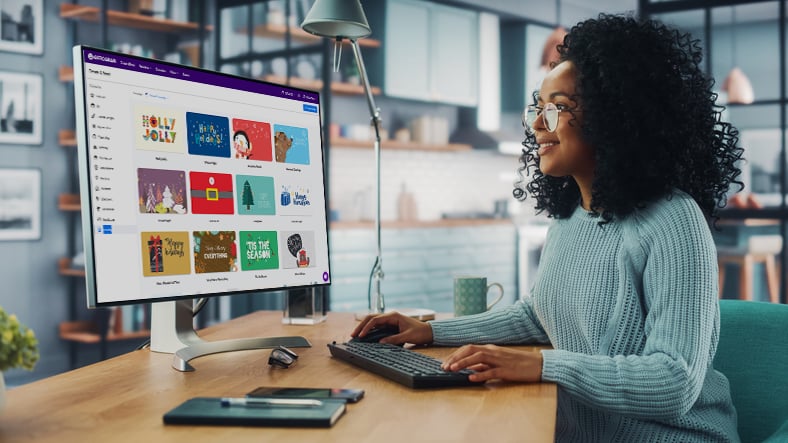 4. Avoid Costly Shipping Fees and Markups
Sending physical gifts seriously cuts into the best part of your corporate gifting budget — the money you spend on the actual gifts. These days, especially during the holidays, shipping fees skyrocket to whittle down your allocated gift amount to much less than you intended. Combine high shipping fees with inflation-driven markups and the $100 per person budget can look more like $50 by the time the item reaches the recipient.
Quick Tip: By scheduling Giftogram's digital gift cards to send to your employees, vendors, and customers, every dollar of your gifting budget goes toward the actual gift. No digital delivery fees, and choosing a gift card design from our catalog or uploading your own is free. Not to mention adding your logo, too!
So when you've got $100 per person for a Giftogram gift card, they'll receive a $100 gift card in their inbox. Best of all, with over 200 retailers to choose from, they're guaranteed to love their gift!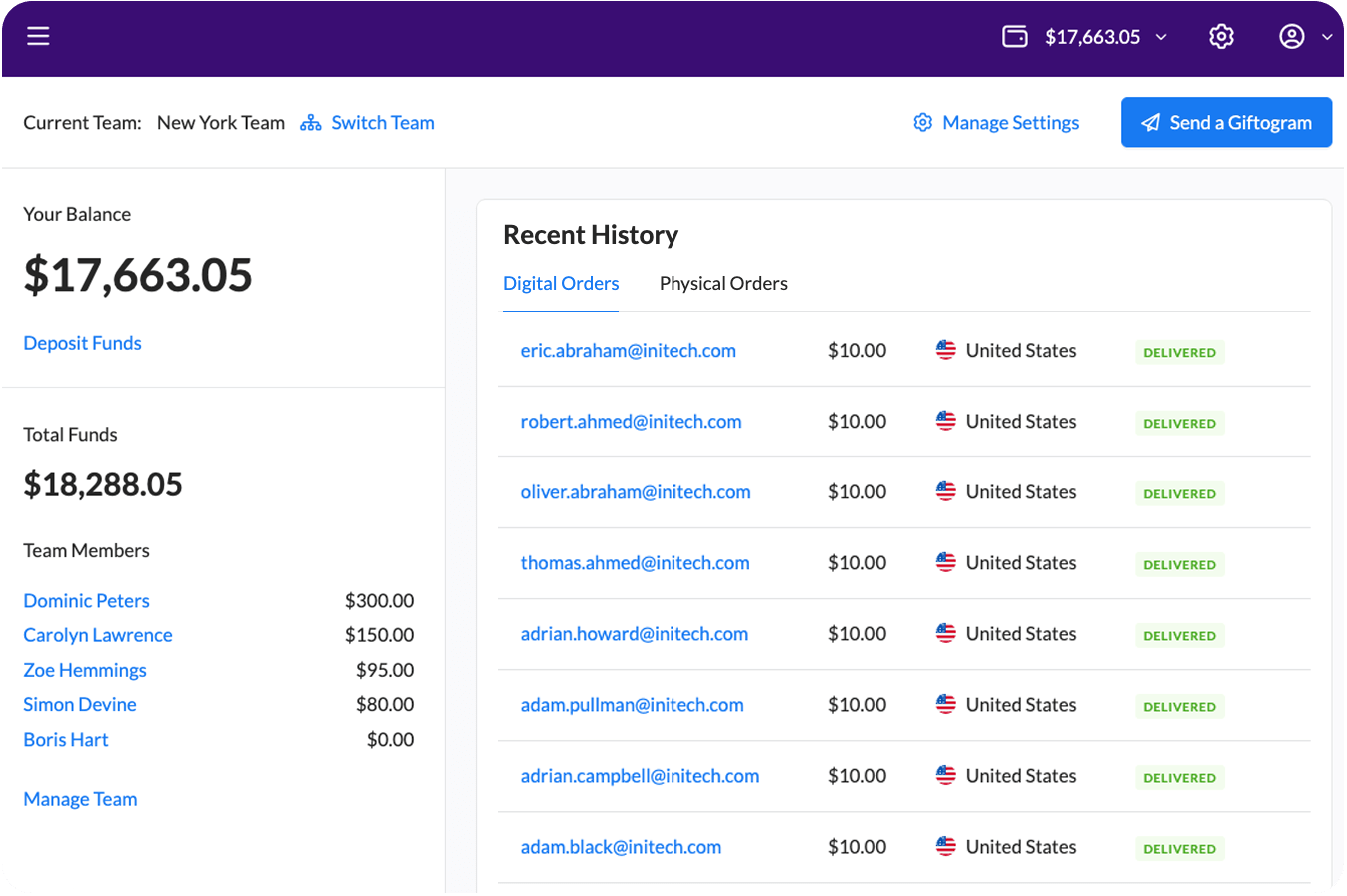 5. Look to One Source of Truth for Corporate Gift Accounting
Collecting receipts for corporate gift expenses come tax time can be a nightmare for your accounting department. You can't count on everyone to save and submit every receipt, and even if they do, that's a painfully manual process. For every missed gift, that's a business expense your company misses out on.

Quick Tip: Instead of hoping everyone's on top of reporting their gifts, automate the tracking and reporting process. Giftogram houses all of your corporate gift data in one secure place and includes reports that make it easy to keep tabs on who's spending what, along with all of the nitty-gritty details you'll need when it's time to file taxes and claim those business expenses on your return.
Automate Your Corporate Gifting Program with Giftogram
From effortless scheduled email delivery to instant gift tracking, automating your gift program can save managers across your organization valuable hours in their week. Start today by creating a free Giftogram account online, or give our team a call at (973) 887-1600 and we'll help you set it up.