Check out these 10 desk decor ideas that can help you add positivity, pops of color, and personal branding to the place where you get your hustle on all week long.
Go Green with Bold Botanicals and Low-Maintenance Succulents

From humidity-boosting qualities to toxin-clearing capabilities, desk plants bring benefits beyond the superficial appeal of green leaves against a stark-white backdrop. Not to mention, stocking up on succulents and leafy accent pieces gives you the perfect excuse to shop cool and colorful planters that spotlight your personal style.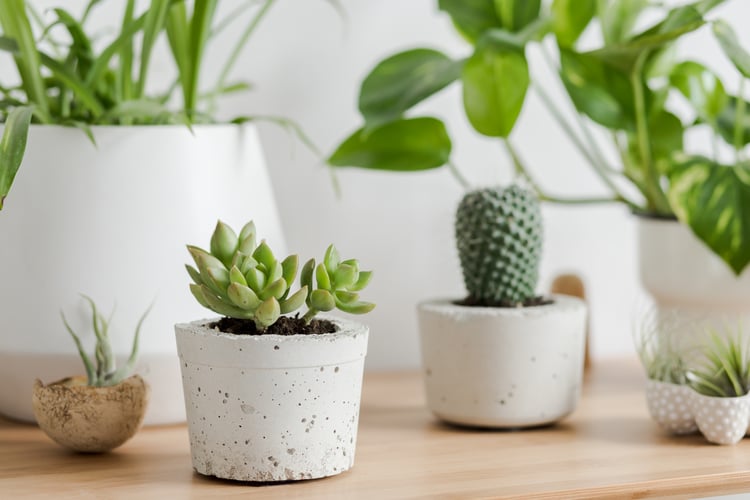 Stay Positive with Inspirational Quotes from Leaders You Admire
You know those post-meeting moments when you especially need a pick me up? Always be prepared with a framed quote that inspires you to keep moving forward. Rather have words of wisdom of your own or from someone closer to home? Hit up your art department to mock up your quote or design it yourself with an easy-to-use template from Canva.
Remind Yourself Why With Cute and Quirky Family Portraits
The biggest reward for all of the hard work you invest in your career is the ability to build and maintain the life you share with the people and pets you love. While framed photos are always a nice touch, you can also order affordable custom illustrations of the family that keeps you moving throughout the day. These creative alternatives to traditional portraits add color and whimsy to your professional setup.
Support Local Artists with Your Desk Refresh
Want a workspace that's really unique? Source your decor from artists in your area. If you're not familiar with your local art scene, find out if there are nearby venues or events that showcase work from people in and close to your community. You can also ask creative professionals in your company to recommend their favorites. Chances are, they'll rattle off a list of artists you can order from right through your Instagram account.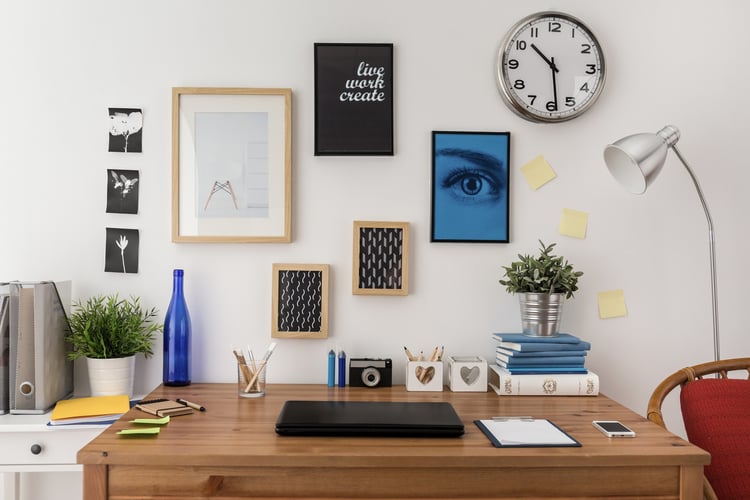 Schedule Your Moment of Zen with a Page-a-Day Calendar
Whether you gaze at scenes of your happy place or take a second to "aw" at the cuteness of an adorable puppy, investing in a daily calendar that gives you a smile, chuckle, or some serious vacation goals is never a bad idea. From comics and jokes to kittens and quotes, you can find a page-a-day calendar for just about anything.

Go Beyond Basic When It Comes to Your Desk Lamp
When done right, desk lamps bring a homey feel to the office, and recent years have ushered in all kinds of new and interesting designs. The classic retro styles have been made over in bold new hues, neon lights are no longer reserved for the bar, and Himalayan salt lamps are popping up everywhere due to their therapeutic qualities.


Nerd Out with Infographics that Double as Art
Pop Chart specializes in design-forward infographics that delve into the fanatical details of all sorts of subjects we obsess over. Creative directors will love the illustrated history of graphic design while copywriters will get a kick out of their colorful series of sentence diagrams. Sports fans have plenty of prints to choose from, and as for pop culture - Seinfeld anyone?
Consider Every Day a Celebration with String Lights
Why wait for the holidays to brighten up your space? Light up the office year round with string lights that take on double duty. Festive meets functional with these LED clip string lights that allow you to hang everything from Post-it reminders to favorite photos while adding a warm glow to your surroundings.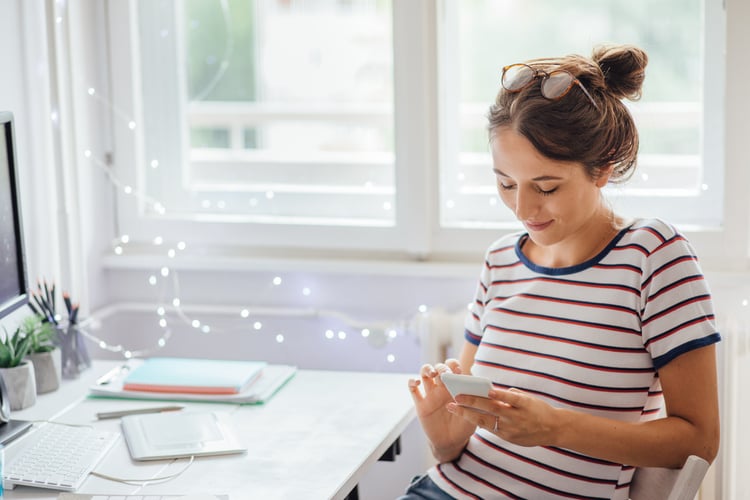 Stay Warm in Style with a Statement-Making Office Blanket
Do your office temps tend to plummet without warning? Prepare for the afternoon freeze by draping a fashionable throw blanket over your desk chair. From shaggy fleece and faux fur to Moroccan-inspired patterns, you can choose the blanket that best keeps your body warm and your desk looking cool.


Pay Homage to the History of Your Craft with Retro-Chic Decor
Thanks to hit shows like Mad Men vintage aesthetics have become a major influence in design over the past decade. Vintage-style books, stationery sets, and decorative objects that give a nod to the past when it comes to how you get work done can give your setup a standout quality and timeless appeal.


Hey HR, Make Creative Spaces Part of Your Company Culture
Don't wait for individual employees to take it upon themselves to add personality to their workspaces. Instead, celebrate self expression by actively encouraging your employees to put their style on display. Welcome new team members and celebrate employee birthdays with Giftogram gift cards they can use at hundreds of retailers that stock trendy and fun desk decor, including favorites like TJMaxx, HomeGoods, West Elm, Target, and Amazon. How's that for options? Learn how Giftogram can reward great work, delight your staff, and fund creativity at your office.