Work anniversaries can be a wonderful opportunity for you to show your employees that your company culture values their loyalty to your business and its community of both clients and employees.
From fun first-year work anniversary ideas to tributes for team members with lengthy tenures, this list of celebrations big and small will let employees know their time with you is appreciated.
Volunteer at Their Favorite Organization for an Afternoon
If your employee volunteer program sponsors off-site volunteer hours, surprise an employee on their work anniversary by getting the gang together to spend an afternoon volunteering at a local organization they support. Whether you walk adoptable shelter dogs around town or cook meals at a local food pantry, giving back together in honor of a team member is a win-win, because you'll bond as a group while giving back to your community at the same time.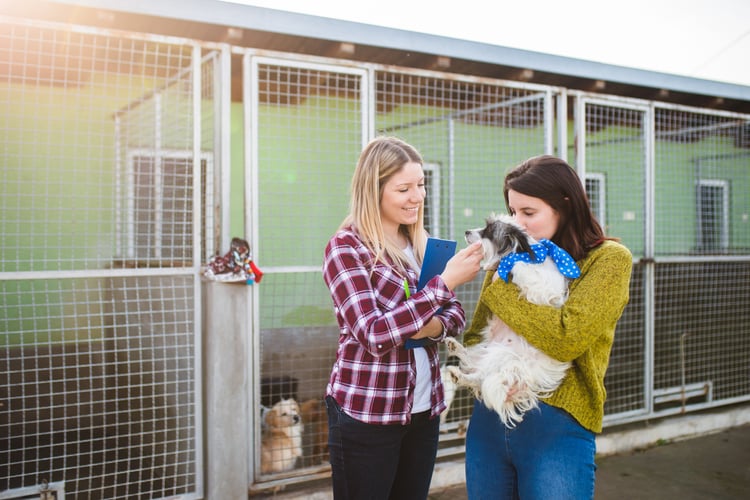 Rally the Team to Throw a Fitting Office Happy Hour
Host a dedicated happy hour to recognize the work anniversary of a teammate with a penchant for a 5 o'clock treat by adding the following personal touches:
Create a custom cocktail or mocktail aptly named after the person of the hour.

Ask a member of your design team to print a funny photo of your teammate's face and affix them to toothpicks or paper straws to serve as cupcake toppers.

Snoop on the Spotify profile and make a playlist of their favorite songs to play.

Secretly invite their partner, kids, or close friends to join in on the happy hour.

Cater a nice spread from their favorite local lunch spot.
Give Them a Gift They'll Truly Enjoy On or Off Duty
It likely seems nearly impossible to bulk order a work anniversary gift that would make Lynn in marketing's day or inspire Matt in design to post about it on social media - but fortunately, there's a really simple solution. Keep a stash of customizable gift cards on hand to acknowledge work anniversaries in a meaningful way. These egift cards stand out with colorful customizable designs and enable the lucky recipient to cash in at their choice from hundreds of popular retailers, from Amazon and Target to Hulu and Sephora.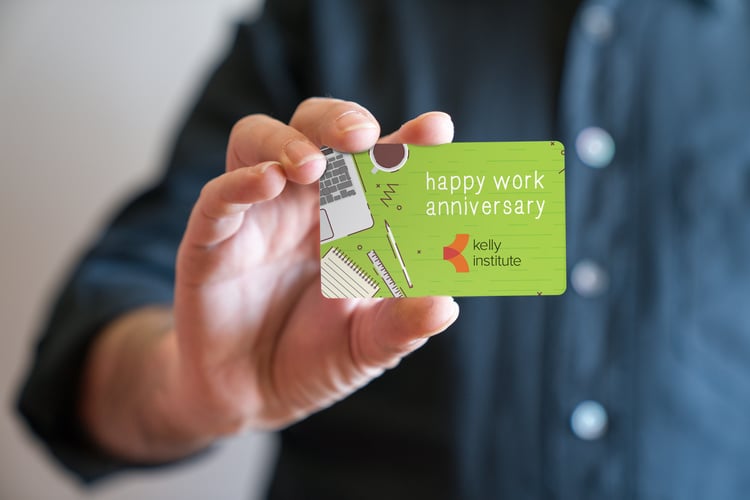 Personalize Something They'll Actually Keep at Their Desk
Even a year spent at a company can result in some classic inside jokes, funny quotes, and notable habits worthy of a deskside tchotchke that will always result in a smile. Consult members of the team closest to the employee you'd like to memorialize with a lighthearted keepsake and drum up ideas for a gift like:
Present a Special Tribute at an All-Company Meeting
Recognize employees who hold impressively long tenures by dedicating a portion of an all-company meeting to highlight their contributions to your organization. To develop a well-rounded presentation packed with accomplishments, funny stories, and heartfelt sentiments, consider this small project a collaborative one.
Secretly invite their close team members and friends at the office to brainstorm topics or ideas or ask them create their slides on the sly and assemble them into a digital presentation that everyone can feel part of bringing together. By taking an inclusive approach to this tribute, the employee you're honoring will feel especially appreciated knowing that a number of people took the time to share how their work lives and careers as a whole have been impacted by them in a positive way.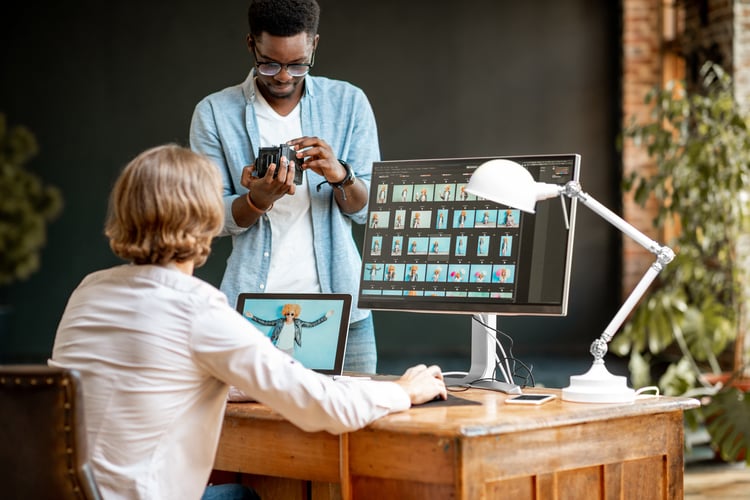 Consider Anniversaries Just One Way to Celebrate Employees
A trip around the sun is a long time to wait for a gift that says "job well done." That's why it's important to infuse your company culture with efforts dedicated to letting your employees know that their time and talent is valued just as much on a dreary Monday morning in January as it is on their fifth-year work anniversary.
And remember, employee appreciation is more than just a nice gesture, it's a retention strategy. People who feel valued at their company are much more likely to stay put than those who don't. While this can be an unsettling thought if you've been focusing on other areas of the business, there's no need to worry. There are lots of ways to show your employees you care about them all year long. Check out these budget-savvy ways to say thanks as a starting point.