When choosing gift cards for your employees, you want to pick ones that feel personal and effectively communicate how much you appreciate them. That means you want to be able to choose your designs, include a message from you or another company leader, and access other custom elements that make your company gift uniquely your own.
Believe it or not, most gift card providers skip over this essential step. But because we believe personalization makes a gift meaningful, Giftogram invests in free tailored-to-you features that let your employees know how much you appreciate them.
5 Personalization Features to Enhance Your Company Gift Cards
Your culture isn't basic, so why should your company gift be? Go beyond the everyday digital gift card with gifts that allow your company's personality to shine. Here's how you can create employee gift cards that only your company can give with Giftogram.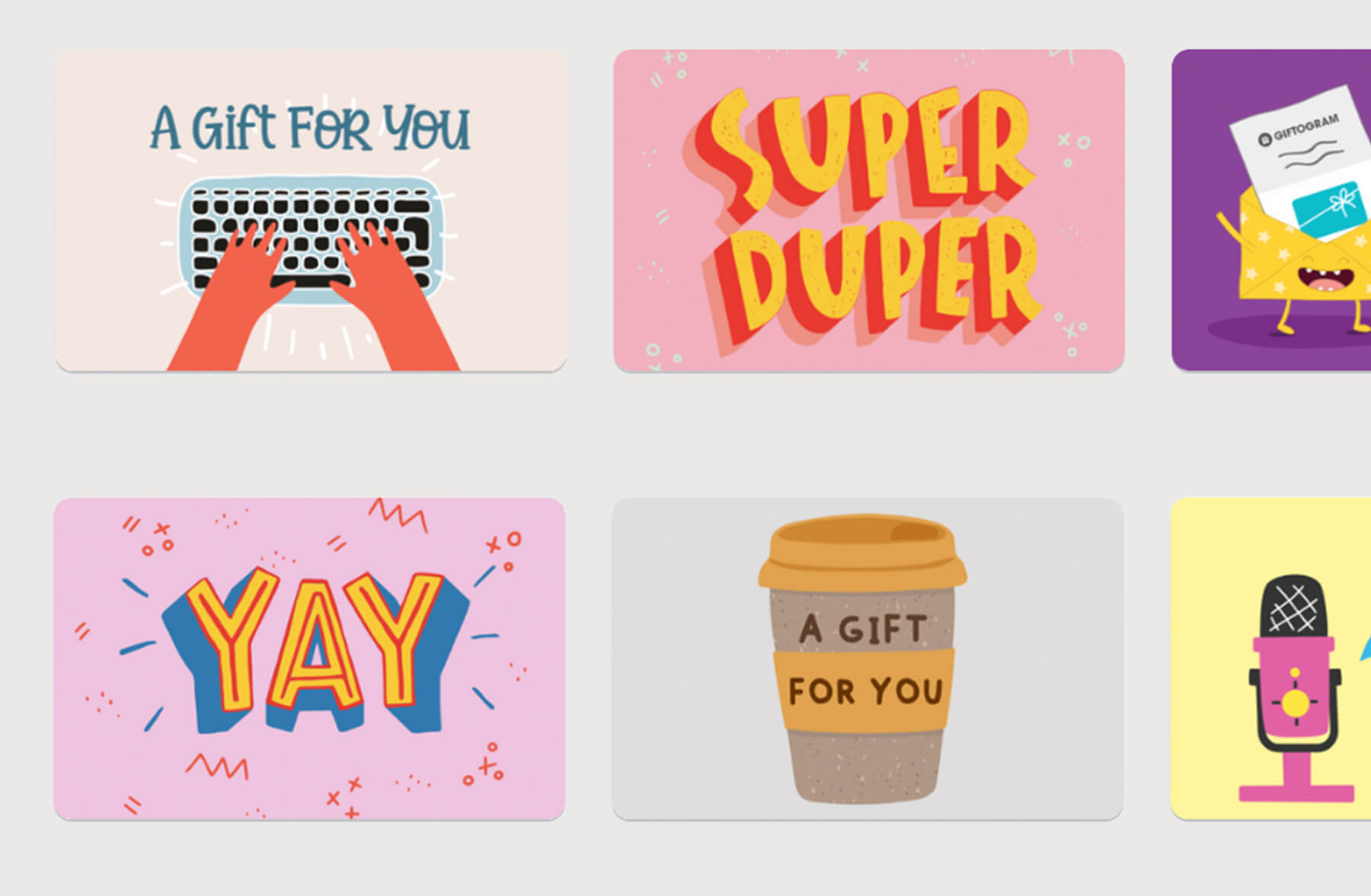 1. Name the Big (or "Just Because") Occasion
It's more than a "Gift for You" when you specifically celebrate why you're sending an employee a Giftogram. From birthdays and holidays to moments worth recognizing, we offer gift card categories for just about every occasion you want to commemorate.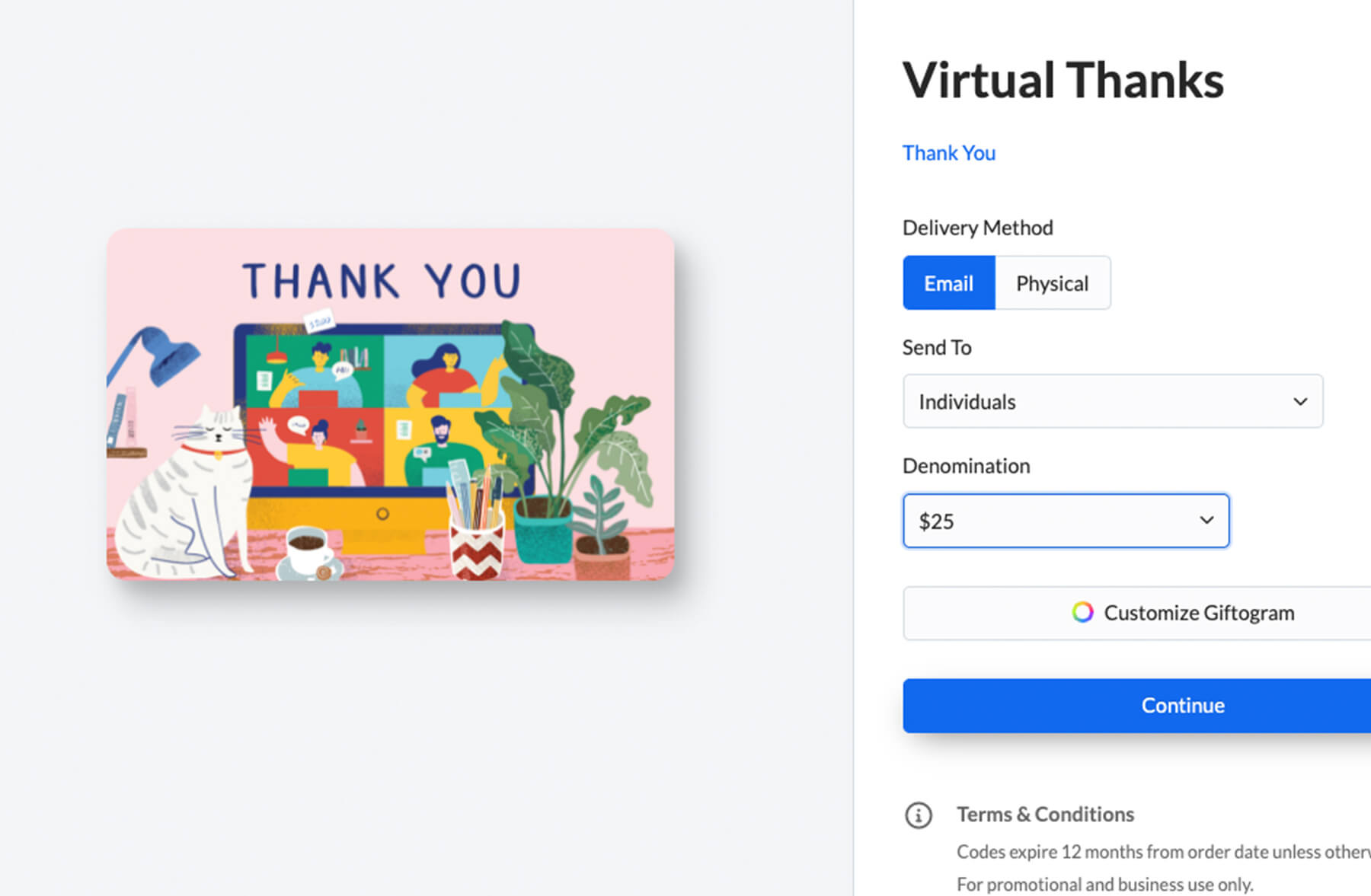 2. Choose the Perfect Themed Design
Our gift card catalog is packed with fun and festive designs sure to make employees smile, and we're always adding new designs to the mix.
For employees who save the day by stepping up, you can choose dancing pickles that say, "We Were in Pickle" and thank them for their willingness to lend a hand. Retirement gift cards invite departing employees to "Just chill" in their golden years with colorful palm tree prints, while colorful birthday gift cards lead with smiling cakes and poppy confetti. Why settle for a boring patterned background when you can opt for punny characters, heartwarming thank yous, and eye-catching congratulatory messages.

Have the perfect design of your own in mind? You can customize your Giftogram gift cards for free.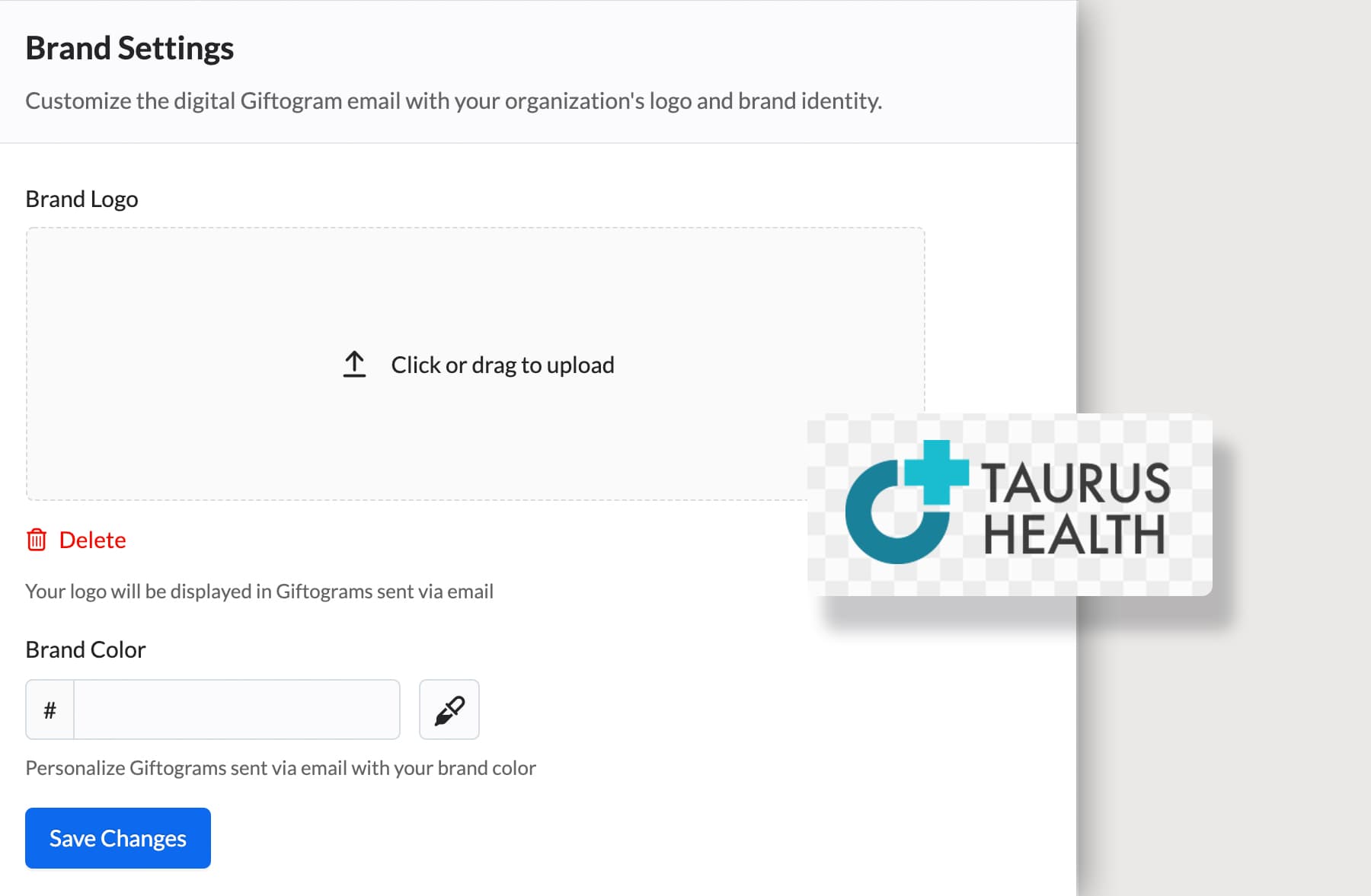 3. Add Your Company's Logo
Your company name belongs on employee gifts. They're from you, after all! Giftogram lets you add your company's logo to any of our pre-made designs at no charge. You can include your logo in a custom design that you create and upload to the Giftogram platform. Now, how's that for personalization?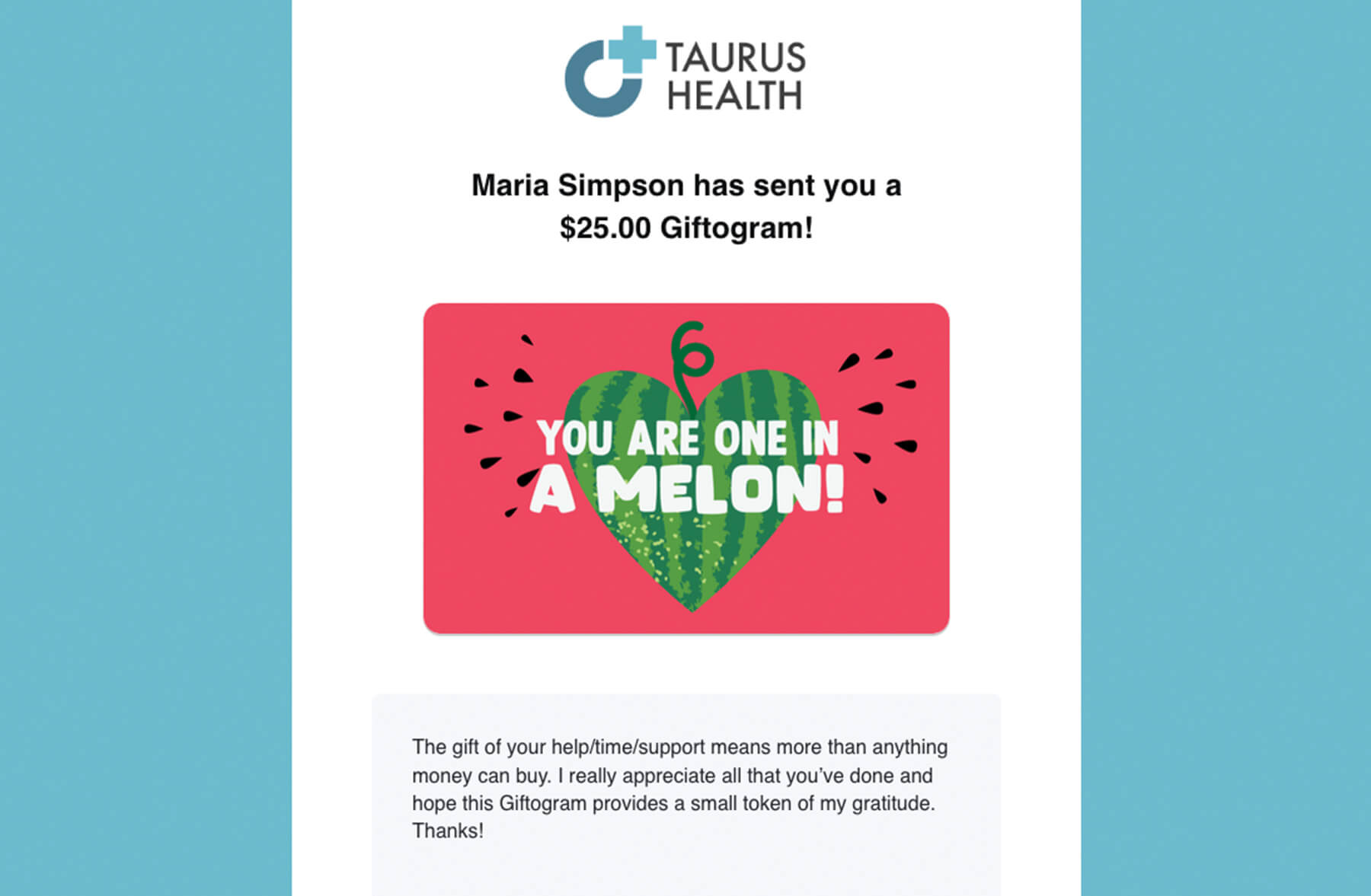 4. Add a Message Just for Your Employee
When you aim to recognize a stellar employee, a blank or generic gift card message won't do. Hearing from a manager or other organizational leader means the world to someone who strives to do their best each day.
With Giftogram, you or another manager can include a personal note so you can detail the impact that employee has on your workplace and your team. Trust us, taking a few minutes to leverage this feature is just as important as the gift you're sending.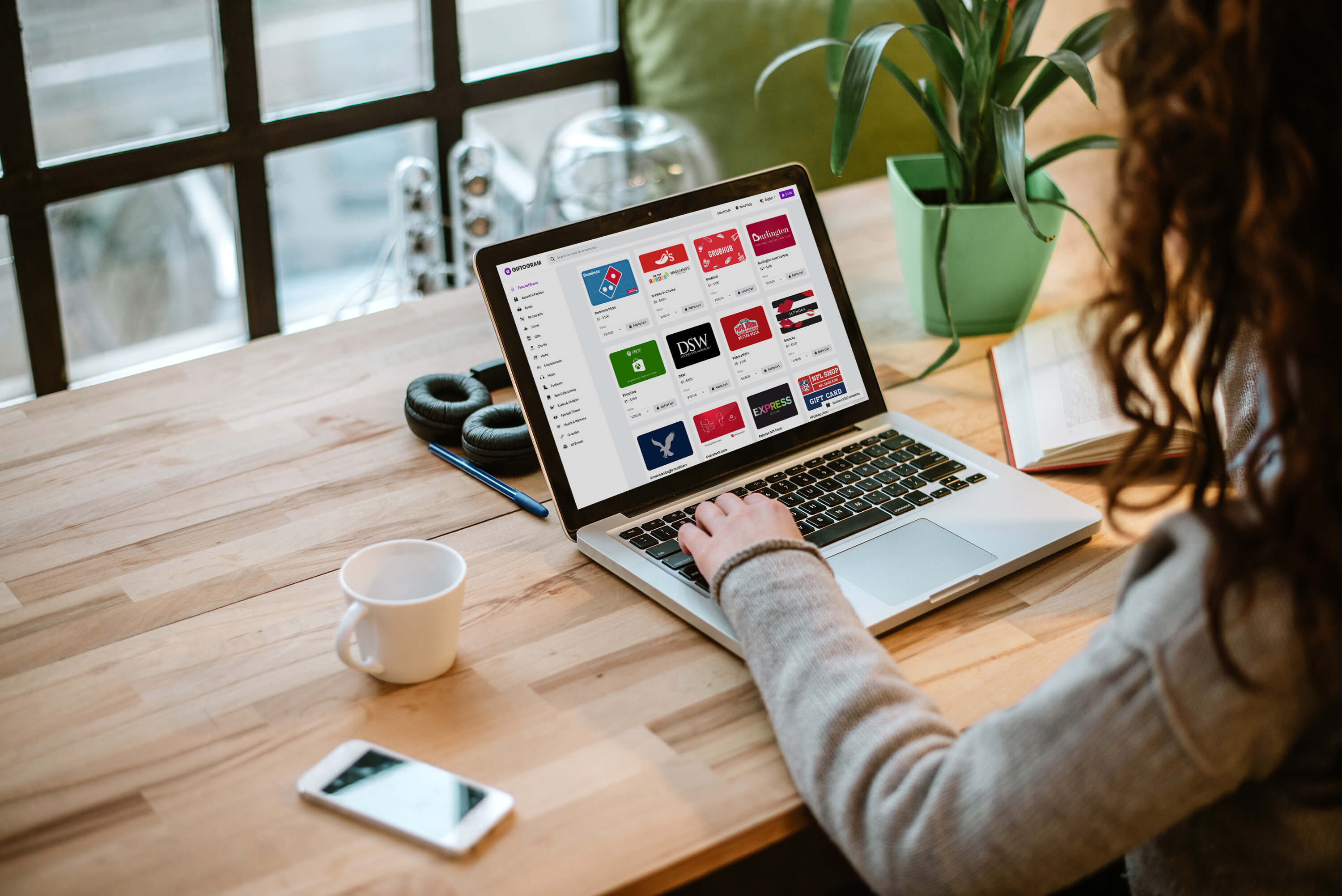 5. Let Employees Choose Their Gift
With Giftogram employee gift cards, personalization extends beyond the way they look and the message that accompanies them to the gifts themselves. That's because recipients can choose their gift from over 200 of today's most popular retailers, from superstores like Amazon and Target to digital favorites like Hulu and Spotify to specialty shops like Sephora and HomeGoods.
So if you're worried about picking the right gift for everyone on your team, our endlessly flexible gift cards are sure to delight all of your employees, from Susan in Accounting to Nate in Customer Care. Check out our full list of retailers to see all of the awesome retailers where your team can redeem Giftograms.


Choose Employee Gift Cards That Are Tailored to Your Company Culture
Your organization's leaders spend countless hours building a company culture that values your employees and celebrates the wins along with the moments that give your team the opportunity to learn. Center your employee gifting program around your culture, values, and brand with gift cards that make appreciation personal every time.
Giftogram gift cards allow you to:
Choose the perfect design for the occasion (or create your own!)
Add your company's logo to your gift card design
Include a special message to gift card recipient(s)
Pick your gift card denomination from $5 to $500
Give a gift that every member of your team will enjoy
Ready to upgrade your company gift to one that's set apart by a personal touch? Create your Giftogram account to get started online, or call our team at (973) 887-1600, and we'll help you choose your design and place your order in no time at all.