The holidays are here! But for those tasked with acing the corporate holiday gift, the seasonal cheer takes a back-burner to a daunting to-do list. Fortunately, Giftogram can take the hassle out of the holidays with a digital gifting platform that's exclusively designed for businesses with sizable recipient lists.

Considering a new way to tackle one of your biggest tasks of the year? Check out these six ways Giftogram helps your business cross holiday gifts off your list in no time at all.


1. Give the Perfect Gift with a Single Gift Card
Searching for "the perfect gift" for each individual employee takes hours of time you don't have. On the other hand, choosing one item for everyone runs the risk of missing the mark for a fair share of recipients — that is, unless you give a Giftogram gift card.

Unlike traditional gift cards that limit recipients to a single retailer, a Giftogram gift card allows recipients to choose their own gifts. For example, when you send a Giftogram to everyone on your team, Quel in Marketing can redeem his at Best Buy while Kate in Human Resources can shop at Nordstrom Rack. In short, Giftogram is the guaranteed way to ensure that everybody loves their gift.

See the full list of Giftogram retailers.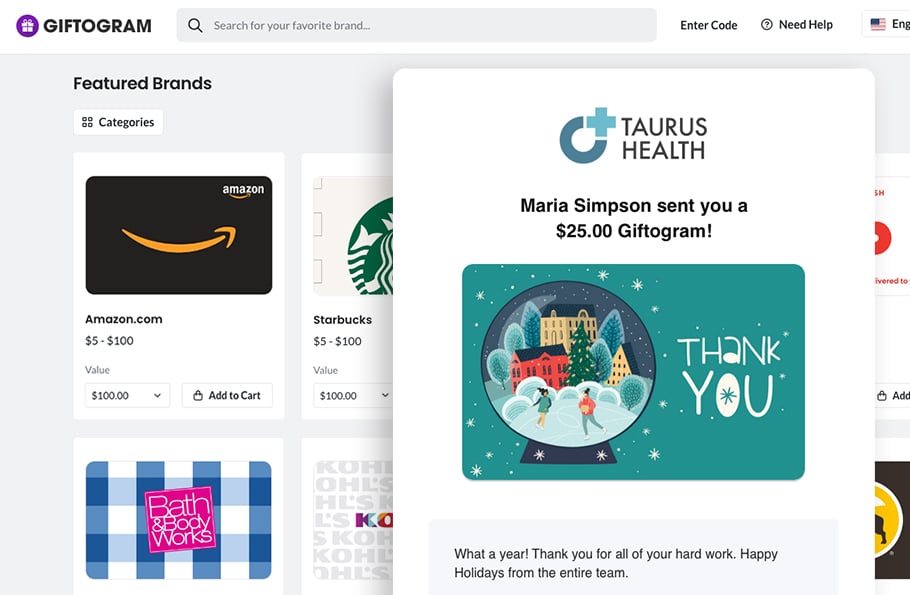 2. Delight Recipients with Festive, Pre-Made Designs
When you go with Giftogram digital gift cards, gift wrap's included! The Giftogram design catalog is packed with fun and colorful holiday designs. From cheery hot chocolate to holiday designs spanning all kinds of occasions that come along with the holiday season. Have something special in mind? You can also create your own holiday design with our easy-to-use DIY design uploader.

If you'd like to opt for physical gift cards, you can include a matching greeting card for a minimal fee per card.




3. Add Personal Touches Like Your Logo and a Company Message
One of the main reasons companies pass on gift cards is because they've traditionally been considered impersonal. And when you think about traditional gift cards, that makes sense. They typically bear a generic design and logo of a designated retailer and lack space for a meaningful message. This lack of personalization makes the gift feel like an afterthought, and while these details may seem minor, their absence takes away from the recipient's experience.

Giftogram's gift card platform comes with built-in personalization features that allow you to:
Add your company's logo for free
Choose your own design and brand colors

Include a message to the matching email that delivers the gift card

Add personalized recipient and sender names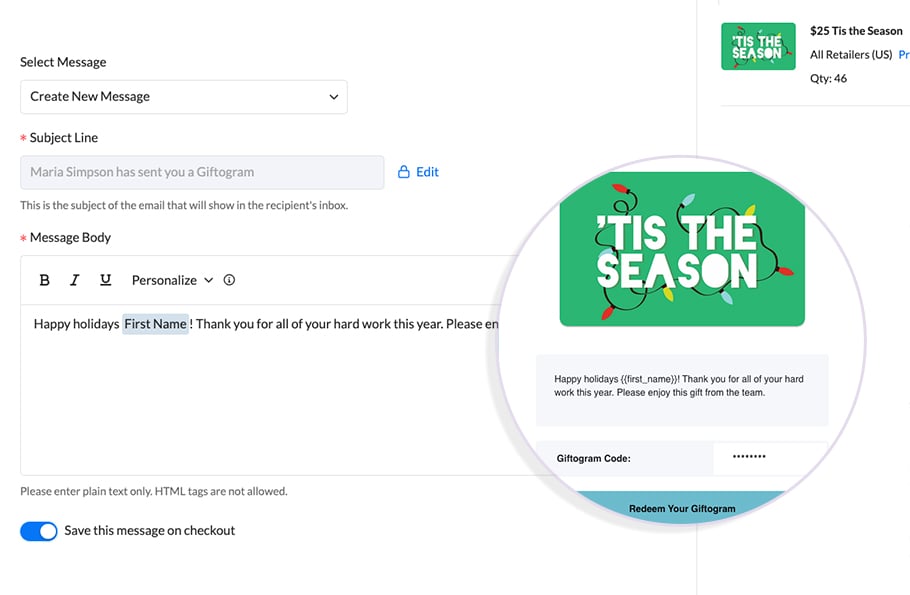 4. Easily Send Digital Gift Cards in Bulk for Free
The holidays typically call for choosing, ordering, and managing the distribution of many gifts at once. That's why Giftogram offers set-it-and-forget-it options like bulk gifting via schedule and send. We offer this enterprise-level service to all users, allowing you to send one or 100,000 gifts to recipients in just minutes.


Send gifts to as many saved recipients as you like
Upload your full recipient list at checkout 

Send one-off gifts to vendors or clients newly added to your list

Schedule gift sends weeks or months in advance or send instantly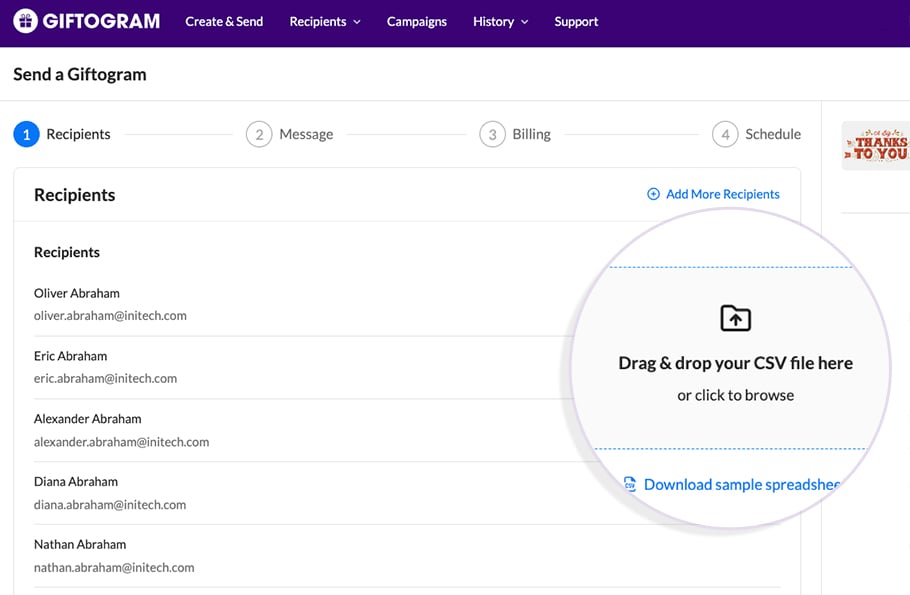 5. Allocate Gift Budgets for Managers
While you can leave it up to a single person or department to handle all of the gifts, those designated individuals may not know the recipients beyond employees like vendors or VIP clients. Giftogram's Teams feature allows your company to invite managers to pitch in with holiday gifting. Simply add managers as users, apply a gift budget for each of them, and let them gift team members, vendors, and clients as they see fit, all within a budget.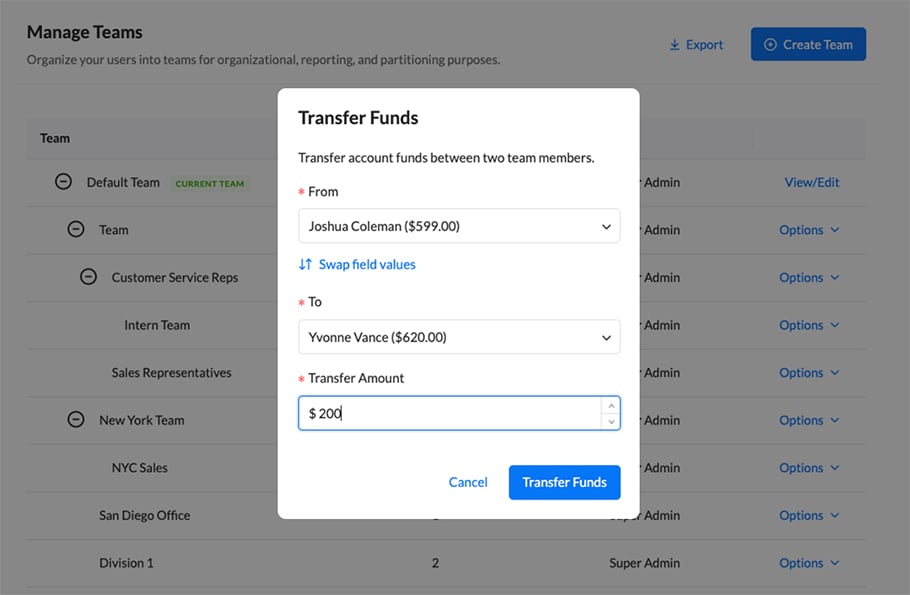 6. Track Spending with Built-In Reporting
Giftogram offers a number of reports to help you keep track of gift budgets across departments and overall spend. You can also report on specific campaigns. Reports include:

Spend reports: Export receipts for individual orders and deposits
Send history: Easily correct bounces or resend gifts
Campaign reports: Save campaign-specific gift settings and export reports

Not only will these reports help you during the busy holiday season, but you'll also be able to keep expenses organized at tax time.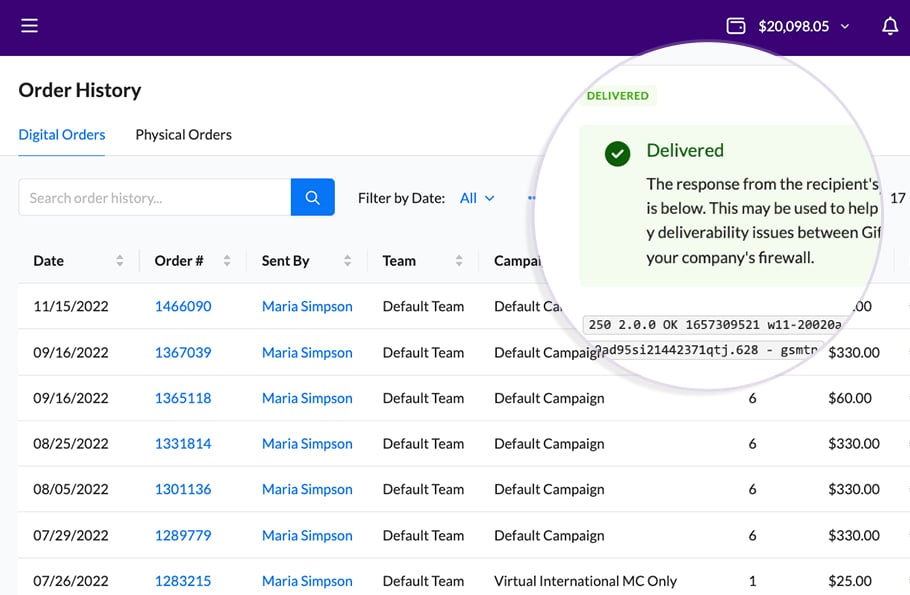 Simplify Corporate Holiday Gifting Once and for All
Get started with Giftogram now, so you're ready for the holidays in minutes. Create an account online today or give our team a call at (973) 887-1600 and we'll help you cross those gifts off your list.