When it comes to custom gift cards for business gifts there are only a handful of options available on the market. Some retailers such as Starbucks, Dunkin' Donuts and even Subway now offer tools to create co-branded company logo gift cards online. This means that you have the ability to drop your logo next to theirs on the provided artwork. While it's a step in the right direction for branded gift cards, there are still many limitations.
With Giftogram you can make giving corporate gift cards more personal and thoughtful when you allow recipients to choose their favorite brand from hundreds of available options. Just add your logo and you have a completely customized corporate gift.
In this article, I'll briefly explain how to use Giftogram's easy-to-use tools to make great business gift cards with logo.
Choose a Design
To start, browse our selection of pre-made designs.
There are designs for nearly any occasion and we're always adding new ones. In our catalog, you will find gift card designs for the holidays, accolades, anniversaries, birthdays, thank you gifts, welcome and retirement gifts, and many other special life events.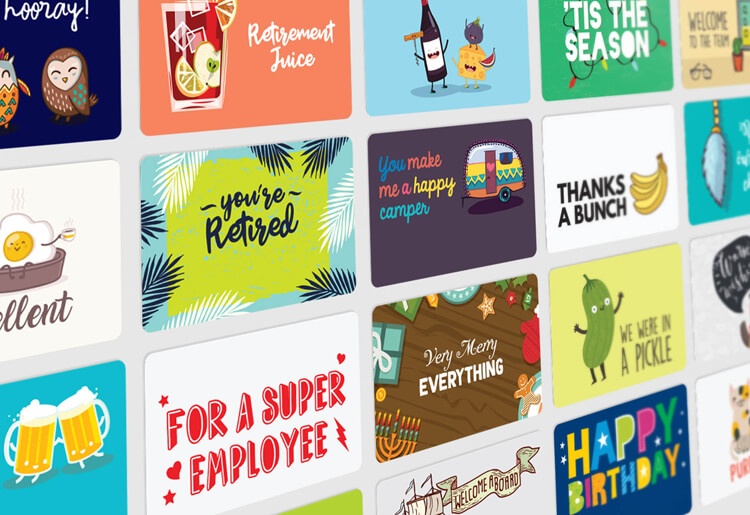 Once you've selected your design, it's time to really personalize your gift cards by adding your company's logo.
Upload Your Logo
All of the designs in the Giftogram catalog are designed with logo placement in mind. This means all you have to do is upload and add your logo to any gift card or its accompanying greeting card carrier to customize it.
After you've selected a design, simply click on the "Edit Design" button to launch our drag-n-drop gift card design tool. Next, on the left of the screen click on the "Upload Logo" button.
We can accept logos in nearly any format. From popular web formats such as JPG and PNG to print staples such as Illustrator (AI) and Photoshop (PSD) files, you can upload any format you have and we'll do the rest with magic and computers.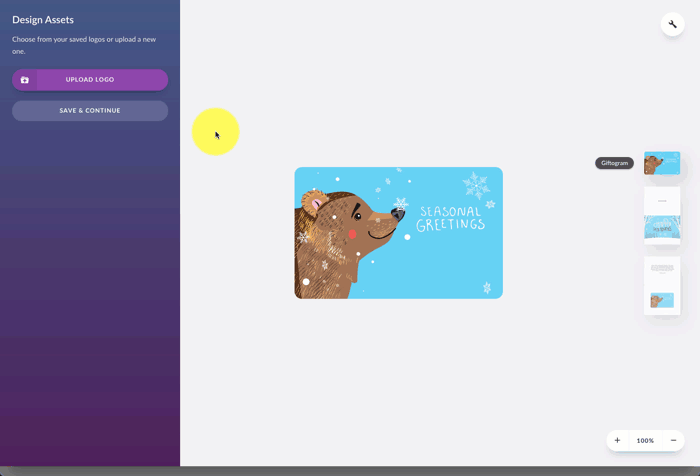 Adding Your Logo to the Gift Card
Once you've uploaded your logo, placing it in your chosen design is as simple as one-click.
Our software will attempt to resize and place your logo where it will look best but if you would like it somewhere else it's as easy as dragging it to where you like. Want to resize your logo? Simply click and drag the corners to resize. If you're familiar with image editing software like Photoshop or Illustrator, you'll find our tools familiar and easy to use.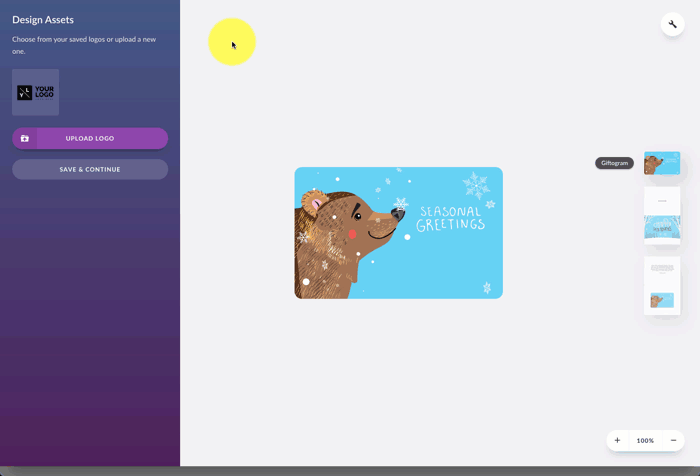 All elements of Giftogram designs are editable. If you're feeling up to the task, you can move or resize any element of the design to best achieve the look you're going for.
Adding a Branded Greeting Card
Each Giftogram gift card has an optional, corresponding greeting card carrier that you can add for an extra fee. This greeting card is also brandable and can include a personal message inside.
Just like how you added your logo to your personalized gift cards, you can add your logo to the greeting card with just one click. Creating custom branded gift cards has never been this easy.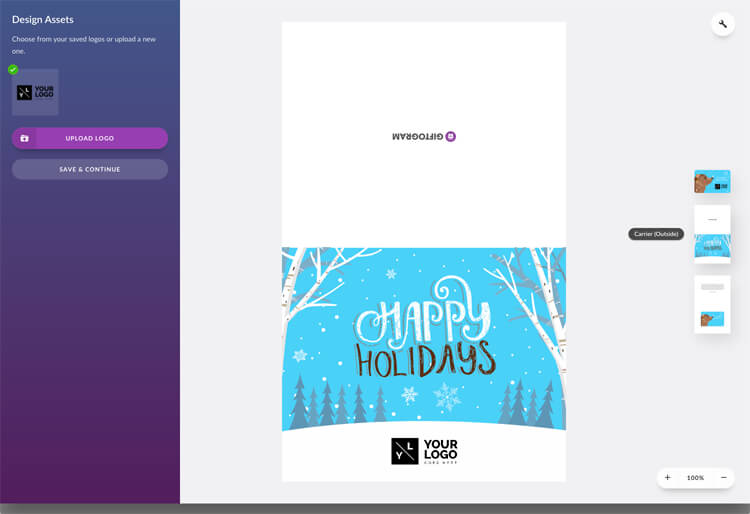 Personalizing with a Custom Message
The inside of your greeting card carrier can be customized with a personalized message to your recipients.
Simply click on the inside of the greeting card and start typing. Once your message is placed on your greeting card you can select a font you like and even change the color of the text. You will see the final product on your screen as you make these changes. How easy is that?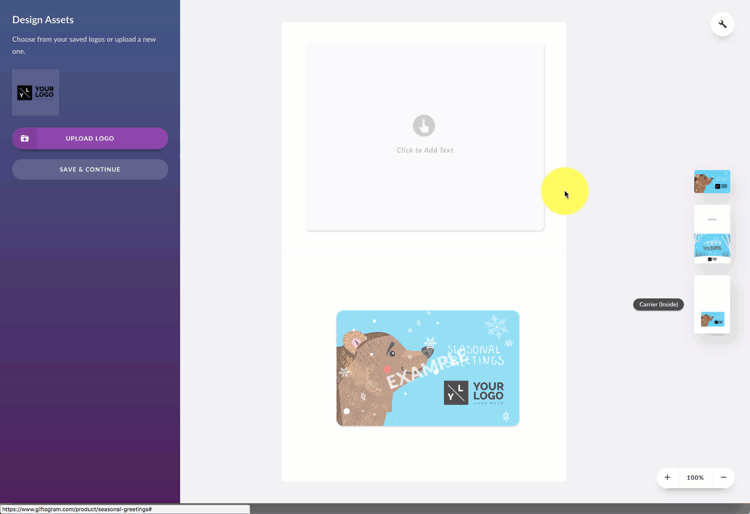 Are you using Giftogram gift cards as your corporate holiday cards? Let your customers know that you appreciate their business and wish them the best this holiday season.
Saving Your Designs
Once you create your business gift cards with your logo, save the artwork for future use. This is especially helpful for re-ordering designs that you use frequently.
You can build and access your custom gift card designs in the Saved Design section of your account. To place a reorder, just click on a saved design, enter a denomination and quantity and you're ready to go.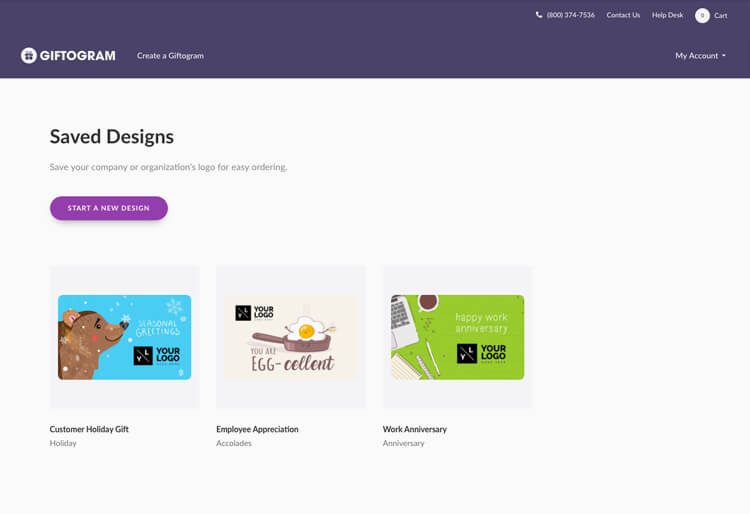 So how will you customize your gift cards? If you have questions about creating your own corporate gift cards? Get in touch and we'll help you through it.