Who doesn't like prepaid debit cards, right? While they may feel like an obvious answer to the employee holiday gift debate, there are some drawbacks to giving prepaid debit cards as a company gift during the most wonderful time of year. Check out these six reasons why Giftogram gift cards are a better way to go when showing appreciation this holiday season.
Prepaid Debit Cards Charge a Number of Fees

There's no doubt that you want your employees to receive their whole gift this holiday season. Unfortunately, prepaid debit cards come with undercover fees that take away from the funds you meant for your employees. Fees include:
Activation fees
Did you know that your business will likely pay a per-card activation fee just to add value to your prepaid debit cards? Fees can range anywhere from $1.00 to $9.95. Multiply that fee by the number of cards you plan to purchase, and you can bet that your gift budget will take a serious hit.
Transaction fees
Many prepaid debit card providers like Visa and American Express charge a transaction fee of $3.95 every time the card is used. If employees use their cards for several price-pointed purchases, they could unknowingly whittle down their gift amount very quickly.

Monthly fees
In addition to per-purchase fees, prepaid debit cards incur a monthly fee ranging anywhere from $2.00 to $7.00 depending upon the provider. These fees combined can make a sizable dent in the amount that you designated for a gift.
With Giftogram, your employee enjoys 100% of their gift! No monthly fees. No transaction fees. Because why should employees have to pay to redeem their holiday gift?
Login or sign up and try it for free.
You Can Easily Deliver Gifts to Thousands of Employees In an Instant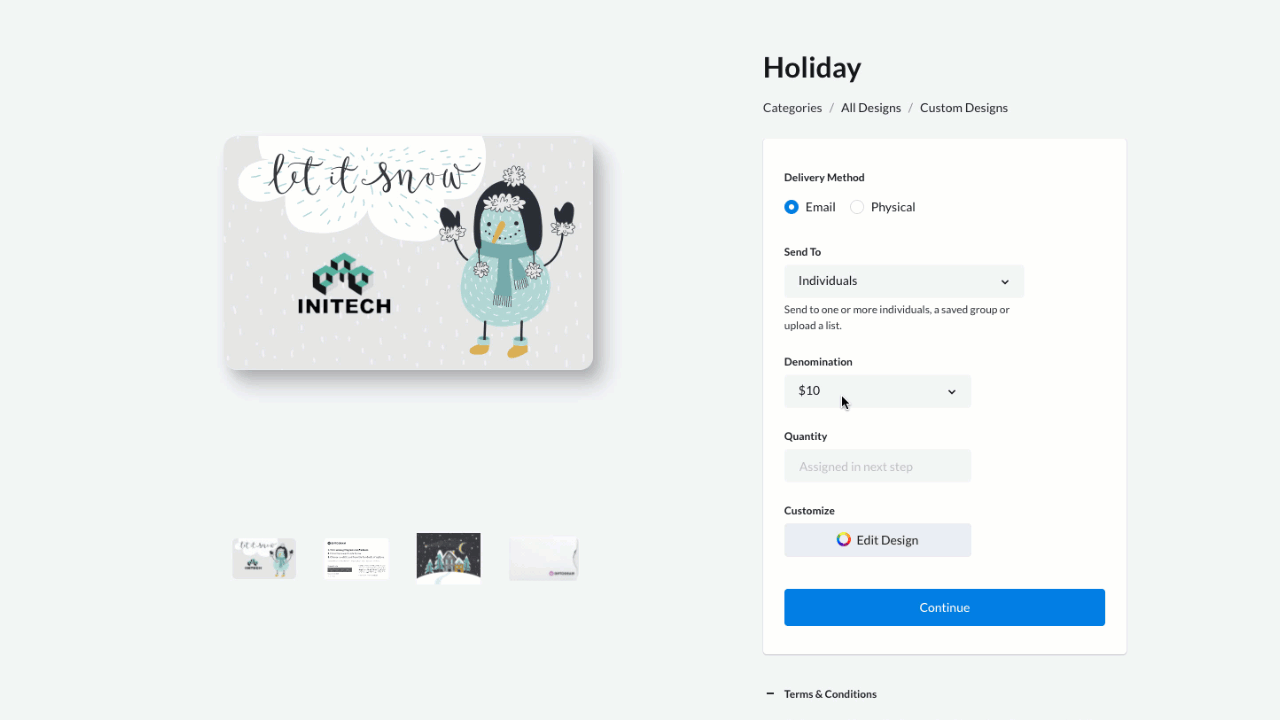 Whether you have ten employees or ten thousand, the time it takes to deliver digital Giftograms is exactly the same. In a year when delivery windows are anything but certain, we guarantee same-day delivery for digital gift cards - no matter the size of your order. Best of all, this lightning speed delivery service is completely free!

Prefer to schedule your Giftograms to send on a particular date? No problem. You can choose the date and time of your digital delivery right within your account. And as always, Giftogram's Customer Success Team is ready to provide any help you may need to ensure that creating and sending your team's holiday gift is nothing but a joyful experience.
Lean on Our Customer Success Team for Everything You
Need

I had the pleasure of working with Shawn Clark who was nothing but amazing! Any questions or concerns I had he answered within minutes over email. The process was seamless! In fact, I passed along the program to our other divisions to reach out to Shawn to help with gift cards to their team members in place of a holiday party. The whole team loved the process and it was so easy! We will definitely be doing this again.

- Alannah M., Office Manager

Many corporate gift managers who are new to Giftogram call us with the same complaint - they attempted to order their company gift through a generic prepaid debit card provider and couldn't get in touch with a human no matter how hard they tried.

Here at Giftogram, we believe that gifting is personal. That's why we pair you with a dedicated Account Manager the moment you sign up. We're here to help you with everything you need - from choosing your gift card design and placing your order to ensuring swift delivery. (Yes, even in the year of the dreaded shipping crisis!)
You Can Add Your Logo and Customize Your Design for Free
Unlike prepaid debit cards, Giftograms are designed to be tailored to your company and its unique culture. Choose a holiday design from our festive gift card catalog or upload your own. No matter what you decide, you can add your company's logo so your holiday gift cards promote your company, not Visa, Mastercard, or American Express. Make your holiday gift cards your own with Giftogram at no extra charge. You're the one giving the gift, after all!

Giftograms Reflect the Spirit of the Season
When you give prepaid debit cards, your company gift feels less like a special gesture and more like business as usual. Without festive graphics and a year-end message of appreciation, the holiday gift meant to celebrate your team falls flat.

When you choose Giftogram, your company's holiday gift becomes more than an everyday debit card. Featuring cheery holiday designs, Giftogram gift cards provide your employees with flexible funds specially designated for celebrating the season.

Best of all, Giftogram does the work for you when it comes to thoughtful presentation, even providing space for your company's holiday message. You can include your message in custom greeting cards that double as gift card holders for physical gift cards. For digital gift cards, recipients receive your message and gift via email.


Giftograms are Just That - Gifts
When you give prepaid debit cards, employees will most likely spend something exclusively meant for them on household expenses. Due to their lack of holiday appeal and generic-use functionality, prepaid debit cards are often used to pay credit card bills and buy groceries. That means your employees will miss out on the fun of enjoying your gift as intended.

Giftogram invites your employees to redeem their gift cards at over 200 of today's most popular retailers. Favorites include Amazon, Target, TJ Maxx, Chili's, Netflix, and more! Offering the same flexibility as a prepaid debit card, Giftogram inspires your employees to treat themselves by bringing them to a marketplace of retailers they know and love.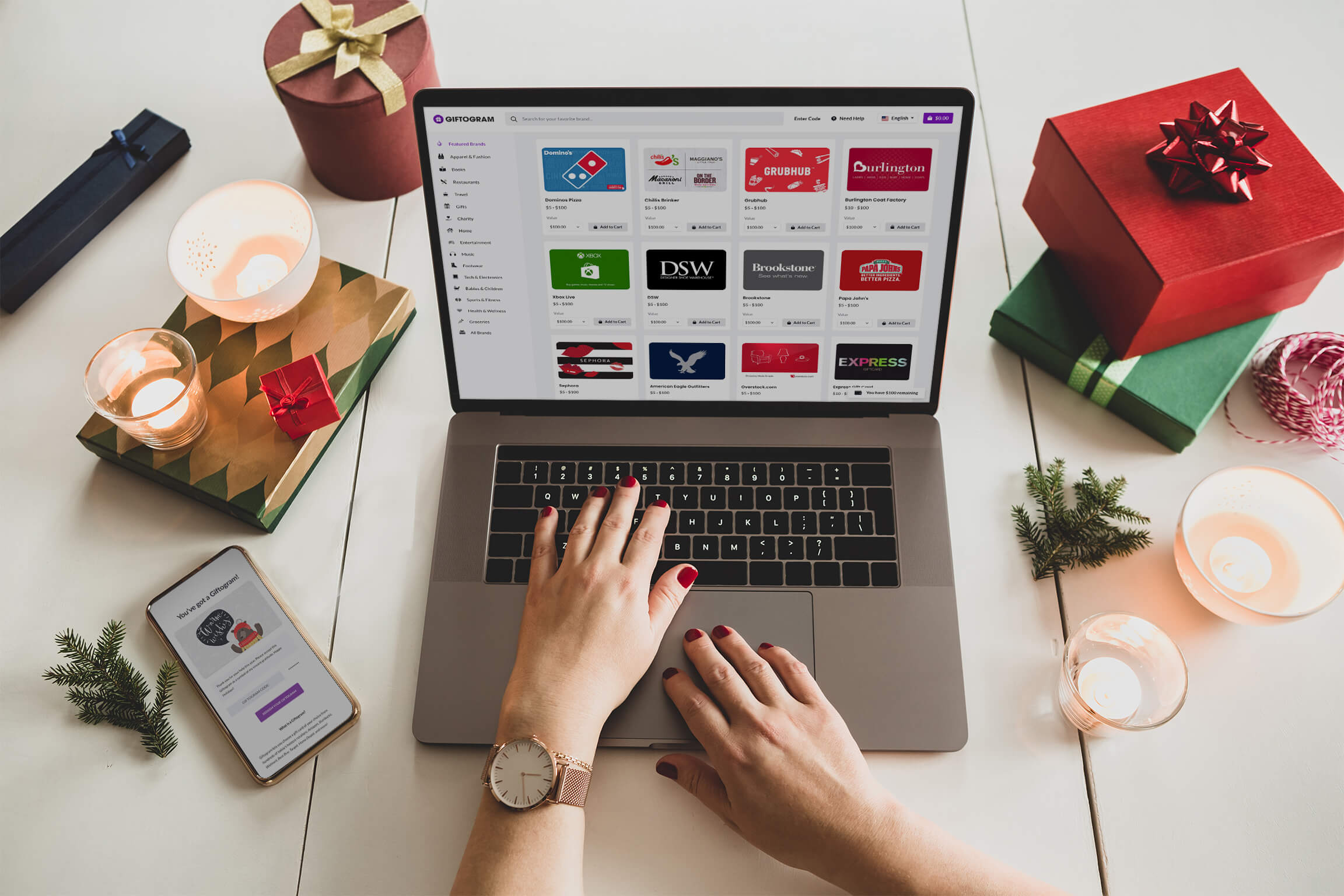 Get Started with Giftogram Today
The perfect holiday gift is more than possible! Contact our Customer Success Team or sign up for a free Giftogram account.