When the holiday season is just as busy on the clock as it is at home, parties at the office are the last thing on your to-do list. If you procrastinated just a little too long this year, don't fret. Check out these last-minute employee holiday party ideas you can pull off with ease.
Last-Minute Employee Holiday Party Idea #1
Host a Holiday Luncheon for Employees
Rather than stressing over the details and dollars involved for an offsite evening affair, make it easy on you and your employees by hosting a fun and festive luncheon at the office. This on-the-clock option not only cuts costs for you, but it also gives employees a way to hang out with their coworkers without having to pay for child care or rearrange their already-booked holiday schedule. There are two ways to pull off a holiday potluck, so choose the one that best suits you and your crew.
Opt for Potluck Style
Invite employees to show off their culinary skills by whipping up their favorite holiday dish to share. So you don't end up with five green bean casseroles and a serious lack of cookies, consider creating a Google Sheet with a variety of suggested dishes and allow employees to sign their name next to the dish they plan to bring.
Support a Local Business
Order catering from a restaurant in your area. Lunch prices will be lower than dinner fare, which gives you a better budget for employee gifts and prizes for games. To make hosting a lunch even more affordable, add a potluck bent by sending around a Google Sheet that invites employees to bring in desserts. You can even make it a competition by allowing luncheon attendees to vote for their favorite dessert, and the winner will get a prize.
Last-Minute Employee Holiday Party Idea #2
Assemble a Festive Slideshow
To add to the ambiance of your holiday party, ask employees to submit their favorite holiday photos with family, pets, friends, and even other employees. Upload the images you receive to a Google Slides presentation and project it during your holiday event.

Last-Minute Employee Holiday Party Idea #3
Have an Office Holiday Decorating Contest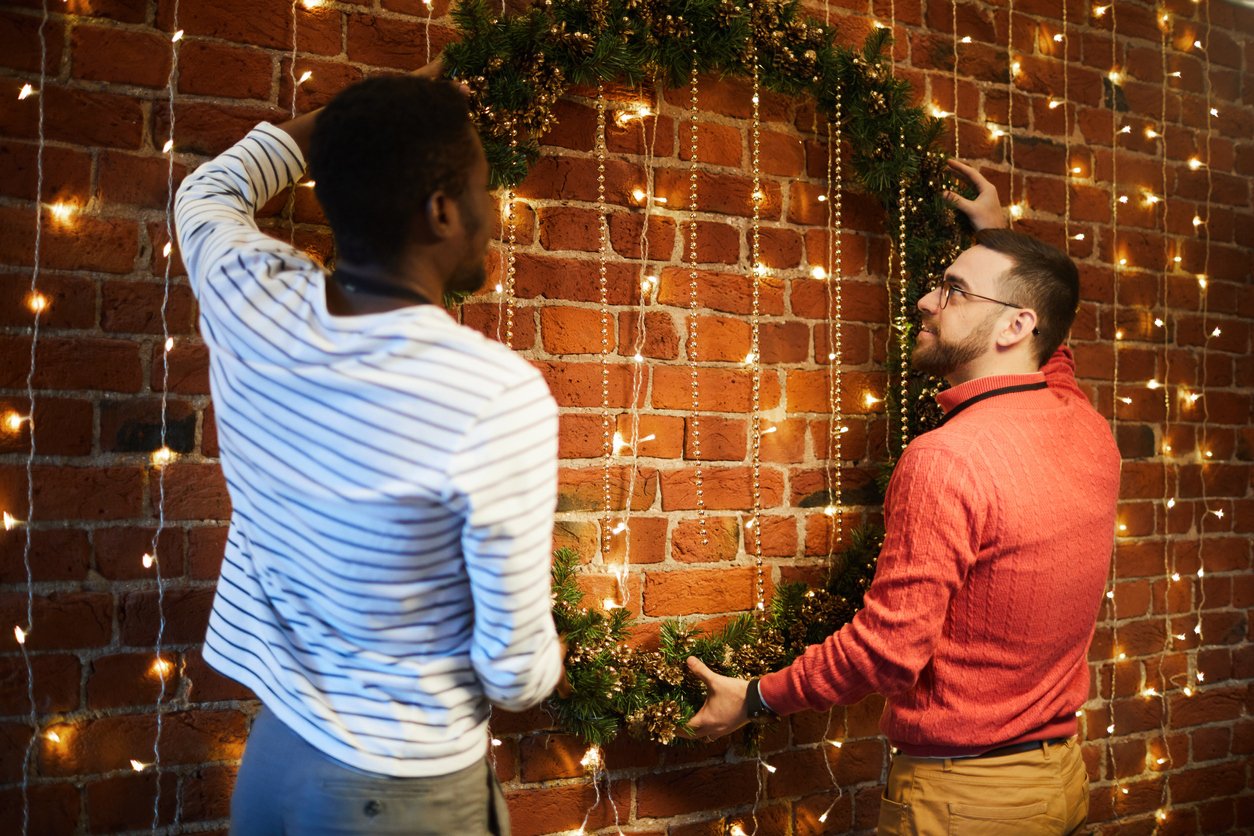 Give everyone a chance to be creative. Invite employees to get in the holiday spirit by decorating their workspaces. Create teams by department so colleagues can band together to outshine the rest. Set a deadline and treat the winning team with the best-decorated workspace to a well-deserved lunch, happy hour, or gift cards.

Last-Minute Employee Holiday Party Idea #4
End the Day Early with a Happy Hour
Surprise your staff by calling it a day a few hours early so you can kick off an impromptu happy hour at the office complete with drinks, snacks, and holiday music. This much-appreciated move will bring everyone together with ease and allow your teams that have been working so hard to take a load off and toast to the year's success.

Last-Minute Employee Holiday Party Idea #5
Plan an Employee Volunteer Day
Giving back to those less fortunate is a great way to spend an afternoon during the holiday season. Arrange a volunteer event with a local food pantry, animal rescue, or other nonprofit in your area and put a charitable spin on team building by sending employees to work together for the good of others in need in your community.
Last-Minute Employee Holiday Party Idea #
Hold an Ugly Sweater Contest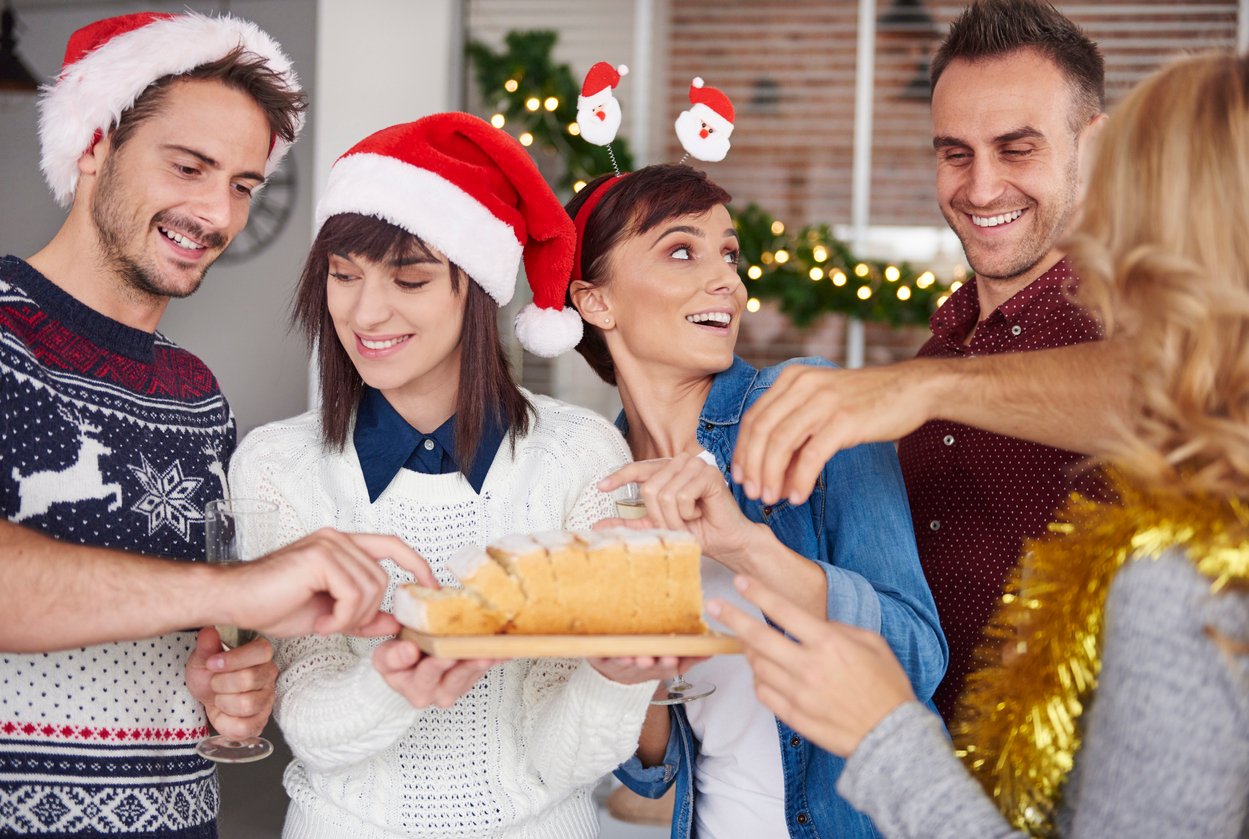 From the light-up trim and musical capabilities of today's seasonal apparel to the crocheted atrocities of the 80s and 90s, ugly sweaters have become a staple of holiday fashion. Let your staff show off their very own brand of ugly for a prize and allow your employees to decide whose sweater is the ugliest of all.
Last-Minute Employee Holiday Party Idea #7
Play a Game of Holiday Bingo
Good old fashioned bingo is a blast when you get together employees and showcase an array of enticing prizes winners can choose from when they win. Pass out snacks and libations and line up prizes from a free PTO day to a spend-anywhere gift card and complete your event with a funny and engaging host. (You know who that is!)
Last-Minute Employee Holiday Party Idea #8
Order a Crowd-Pleasing Gift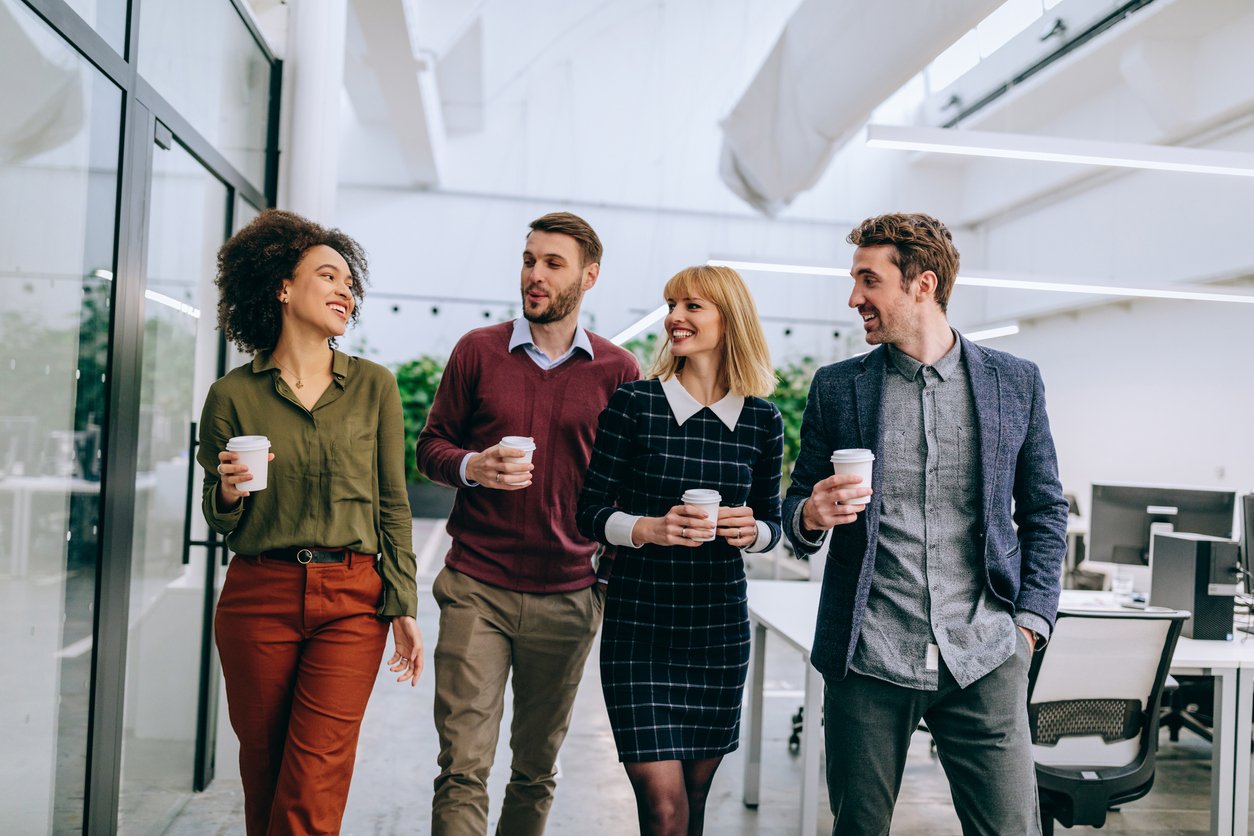 Leverage International Coffee Day to grow your email list by holding a "Coffee's on Us!" promotion. In the promotion, announce that the first 100 (or more if you prefer) people to fill out the form on a landing page you link to will receive a $5 gift card to spend on coffee. Encourage followers to share the post with their family and friends. Once you've reached your limit, update the landing page.
The easiest way to pull off this kind of promotion? Opt for a digital gift card provider like Giftogram, which makes it possible to email gift cards in a snap. Another unique benefit of Giftogram is that you can add your company's logo to the digital gift card design and the gift card can be redeemed at hundreds of retailers, so Starbucks and Dunkin' fans alike will be pleased.