By now, the shipping and supply chain crisis has affected all of us in some way or another. From empty grocery store shelves to those extra days padded onto our Amazon Prime delivery windows, the problems aren't exactly subtle. And as the holiday season draws near, these challenges will only be exacerbated, which means the holiday gift you're planning for employees is anything but guaranteed.
Shipping Costs Pack Pricey Fees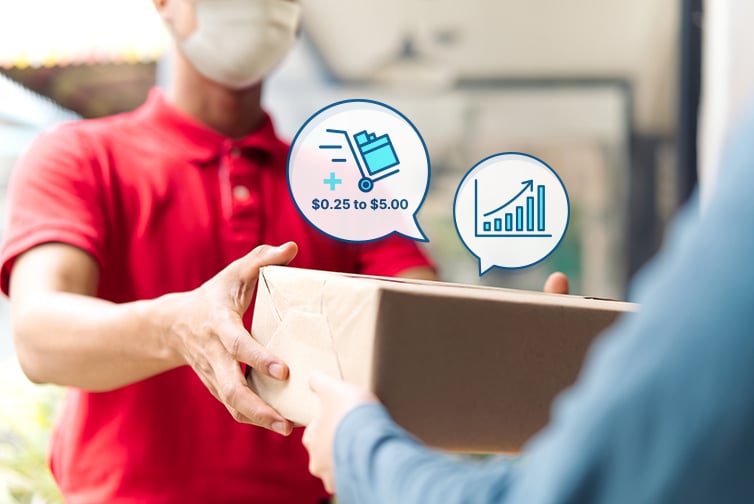 Sure, you probably considered shipping costs in your holiday gift budget for employees. But 2022 is a whole new ball game. Here are two things to consider:
Holiday shipping surcharges apply
According to Adobe Analytics, when COVID-19 convinced many people to opt for online shopping in 2021, online orders skyrocketed by 32.2% to the tune of $188.2 billion. Experts predict that the convenience shoppers experienced during the 2021 holiday season is something many of us will continue to lean on, even as vaccinations are available and infection rates drop.
This year, shipping carriers like FedEx, UPS, and USPS are planning to increase their operational capacity to meet the overwhelming demand for their services. To cover the costs associated with these changes, they're adding a holiday surcharge to each shipment ranging anywhere from $.25 to $5.00.
Economy shipping is the ghost of Christmas past
Businesses with e-commerce shops are in quite a bind this year because promising speedy delivery isn't just out of their hands, it's also looking less than probable. To give customers the most reliable shipping window possible, many businesses are foregoing economy shipping.
Economy shipping typically requires multiple carriers to handle a single package, which slows down shipping times and increases room for error. Instead, they're touting premium shipping options that cost more but promise faster delivery. While you can cross your fingers for free shipping offers, you should expect that the purchase threshold to qualify for this perk will be higher than usual.


That "Perfect Gift" is Probably in Short Supply
Have a gift in mind? If you didn't place your order yet, you might be disappointed to find that the quantity you need isn't available. In addition to stock shortages and murky backorder timelines, many retailers are placing limits on how many items you can order so that more customers have the opportunity to shop.
Considering a prepaid debit card instead? Think again. The shipping fees you'll pay this year are nothing compared to the fees incurred by these seemingly accommodating gift options. Check out these 6 reasons why Giftogram gift cards are a better choice.



Prices are Skyrocketing On, Well, Just About Everything
Supply chain shortages and shipping fees are increasing costs for retailers, which means the extra money they're paying to stock inventory is factored into their pricing strategies this holiday season. This trend isn't exclusive to holiday items. You can expect to spend more on mayonnaise and body wash, too. The question is, when it comes to your holiday gifts for employees, can your budget stretch far enough to cover the price bumps for hundreds of items?

Shipping Estimates are Shaky at Best

Let's say you landed the perfect gift, budgeted for the extra shipping costs, and your corporate holiday gift looks like a hit all around. Unfortunately, there's one more hurdle that's completely out of your hands: ensuring your gifts get delivered on time.
Many retailers are taking notice of the shipping crisis and padding their delivery windows by several, but even they can't promise that everything will go smoothly. If you're on the fence about whether or not your gifts will arrive on time, there are several things you can do:
Option 1: Contact the company's customer service department to ask if delivery windows have been updated to reflect the holiday rush.
Option 2: Contact the company's customer service department to ask if delivery windows have been updated to reflect the holiday rush. Order your gifts extra early to avoid unexpected delays.
Option 3: Choose digitally delivered gifts instead.
While Option 1 doesn't guarantee on-time shipping and Option 2 could mean that your holiday gift arrives at Thanksgiving, Option 3 is your best bet if you're truly looking for a guarantee.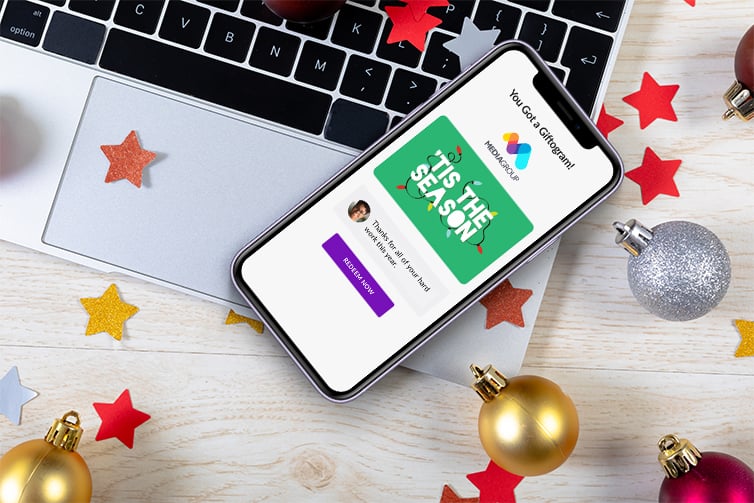 How to Win at Corporate Holiday Gifting This Year
With Q4 coming to an end, you've got much more on your plate than the holiday gift. Rather than sink your employee gift budget on sky-high fees and stress over shipping delays, you can opt for Giftogram gift cards. Giftograms are:
Guaranteed to be in stock
Guaranteed to deliver on time
Guaranteed to please everyone on your team
Yes, everyone. A holiday miracle, indeed! This "perfect gift" allows recipients to choose their holiday gift from over 200 of today's most popular retailers, including Amazon, Target, HomeGoods, and more.
As for fees, expect zero. When you choose digital delivery, you only pay for the face value of the digital gift card: no shipping surcharges, no price bumps. Your entire holiday budget goes directly to your employees for their enjoyment.
If you choose to order physical gift cards, we guarantee delivery within 5 days of your order. (Even this year!) Aside from a small shipping fee, you again only pay for the card's face value.
Best of all, Giftograms allow you to choose from festive holiday designs and add your logo, so your company gift is just that - uniquely yours.


Place Your Holiday Gift Order Today
Create a free Giftogram account to place your order online or call our team at (973) 887-1600 and we'll do it for you.