Much like 2020, the 2021 holiday season will bring challenges along with cheer when it comes to corporate gifting.
This year, the supply chain and shipping crisis threatens massive inventory shortages and delays to retailers and consumers alike. Worst of all, major shipping providers like FedEx will apply a holiday surcharge to shipping costs, making sending and requesting packages more expensive than ever before.
So what's the best path forward for corporate gift managers during a season of uncertainty? Digital, no-ship gift options that offer maximum flexibility.
What is the best holiday gift for employees in 2021?
The best holiday gift for employees in 2021 is digital gift cards. This is true for many reasons, including:
Satisfaction: 8 out of 10 employees prefer gift cards to other gifts.
Cost-effectiveness: Avoid shipping fees and merchandise markups.
Convenience: Ordering and sending digital gift cards is efficient at scale.
Guaranteed in-stock: Gift cards offer unlimited inventory.
Same-day delivery: Completely avoid the hassles and fees of shipping.
Learn more about the benefits of choosing digital gift cards for your employee holiday gift this year.
Traditional corporate gifts vs. Giftogram
Need a little more convincing that Giftogram gift cards are this year's top gift? Check out this comparison of Giftogram and other gift options you may be considering this year to help you determine the right fit for your business and its employees.
Jump:
Giftogram vs. Other Gifts
From same-day delivery during the 2021 shipping crisis to the level of flexibility that can please any size team, Giftogram offers more than the typical corporate gift.

Gift baskets vs. Giftogram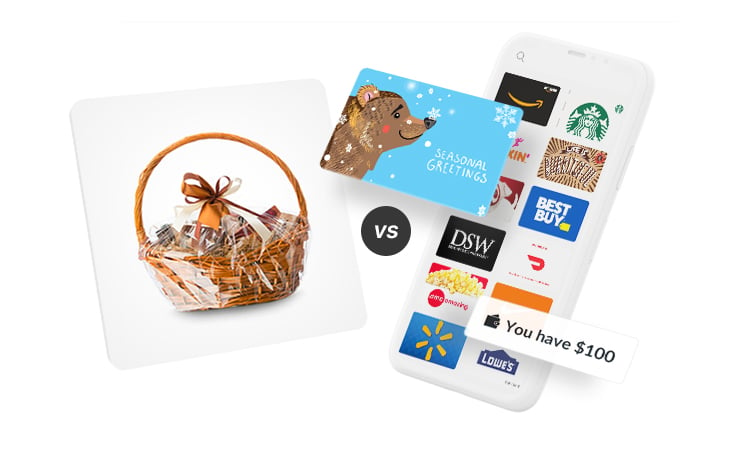 For decades, companies have relied on gift baskets to show the employees appreciation. But with today's many dietary restrictions and the ability to order our favorite delicacies with the tap of an app, has this age-old gifting practice seen its day?
Here are three factors to consider with gift baskets:
Bob doesn't drink, Damien's vegan and Kelly hates macadamia nuts.
It's not easy to tailor a single gift basket to the many tastes of your employees. In reality, it's likely impossible.
With Giftogram...
Your employees can choose their gift from over 200 of today's hottest retailers - including popular restaurants and stores that stock many of the goodies you'd include in your gift basket. The difference is, you'll be treating gift card recipients to foods and beverages they're guaranteed to enjoy.
You'll sink a good chunk of your gift budget into markups and shipping costs.
Gift baskets aren't cheap. You can score that dainty bag of dark chocolate-covered fig cookies at TJ Maxx for $3.99. Put it in a gift basket and you're paying at least $7.99 for the same product. Not to mention the other costs that cut into your gift budget like packaging, wrapping, shipping, and those holiday shipping surcharges.
With Giftogram...
100% of your company's holiday gift budget goes to your employee's gift. No markups, no shipping fees, no packaging costs. Wouldn't you rather ensure that your awesome employees get the very most out of your holiday gift this year?
That gift basket will most likely be put out for guests or other family members.
Speaking of getting the most out of their gift, your employees probably won't consider a gift basket a gift of their own. When you give a gift basket, it's shared with whoever else is in the household or used as a spread when hosting. While it's a nice sentiment, your employees would love to receive a gift from you that's truly meant for them, especially after they worked so hard throughout the year.
With Giftogram...
The gift card is undeniably meant for your extraordinary employees - not for a spread that's perfect for entertaining. When you give your employees a gift card from Giftogram, no one in their family can put it out for all to take.
Merchandise vs. Giftogram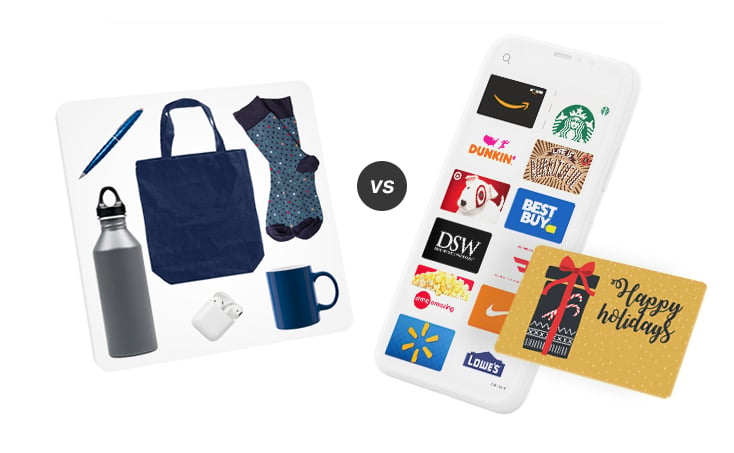 While merchandise may feel more personal as a holiday gift, there are many challenges and costs to choosing, packaging, and shipping an item that everyone loves at scale.
Here are three factors to consider with merchandise:
Let's be real. One size never fits all.
There are lots of considerations that go into selecting a piece of merchandise for your employees, from cost and logistics to how your gift reflects your company culture. And even still, after all that effort, you're bound to have recipients who aren't quite dazzled by the company gift you worked so hard to procure and deliver. After all, what are the chances that Greg in accounting and Hailey in marketing will love the same item?
With Giftogram...
Giftogram gift cards recognize the uniqueness of your employees and empower you to show appreciation in a way that celebrates their many interests, funds their hobbies, and makes their holiday knowing that you took the time to give them something they love. A Giftogram is redeemable at hundreds of retailers, so there's no guesswork as to which gift will make everyone smile.
Even merchandise platforms have their limitations.
The flexibility touted by curated merchandise platforms only goes so far. While your company can choose a single gift or opt to let employees pick their own, the platform limits choice to a marketplace of items that they curate, leaving open the possibility that what your employees want is elsewhere.
With Giftogram...
Employees gain full access to the complete online and in-store inventory of the retailers they love - not just bits and pieces. Because what's the fun in limiting what could be an all-for-me shopping spree?
Create a free Giftogram account.
Supply chain issues will cause many items to run out of stock.
Retailers are right to worry about the particularly pressing issues that will affect this holiday season. As ports close with the threat of COVID-19 and backorders pile up, suppliers can't keep up with the demand for inventory. That means by the time you're ready to order your holiday merchandise, the item you want may not be available.
With Giftogram...
You can count on an unlimited supply of gift cards to delight your team this holiday season. Whether you have ten employees or two thousand, you can order Giftograms in any quantity. And not only will they be in stock, but they'll also be delivered the day and time you choose - even if it's the same day!
Traditional gift cards vs. Giftogram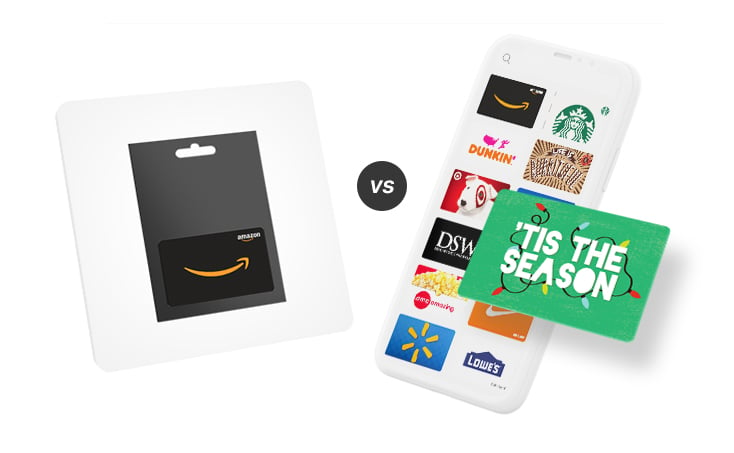 Often considered the appropriate choice when a single item won't suffice, traditional gift cards lack the flexibility that employees are accustomed to with just about everything else they engage with daily. Personalization has come a long way, and traditional gift cards haven't evolved to meet the needs of modern consumers.
Here are three factors to consider with traditional gift cards:
Traditional gift cards offer limited options.
When you opt for a traditional gift card for your employees, you're assuming that every single member of your team will have the same love for the single retailer you choose. Even though big-box retailers such as Target or Walmart may feel like a safe choice, chances are, your employees may shop one or the other.
With Giftogram...
You can enable your employees to choose where they redeem their gift cards from a marketplace of over 200 popular retailers. That way, everyone gets a gift they love with one single, streamlined solution.
Traditional gift cards promote companies other than your own.
The unfortunate thing about traditional gift cards is that they bear the logo of the retailer you choose to promote, making your company's gift feel less about your organization and more about where employees can redeem their gift card.
With Giftogram...
You can completely tailor your digital gift cards to your company. You can choose from a catalog of fun and festive holiday designs or provide your own. Then you can upload your logo and add it to your digital gift card, making it uniquely yours.
Delivery options for traditional gift cards don't always provide the space for meaningful personal messages.
Oftentimes, traditional gift card providers allow for a limited amount of characters in your holiday message. When converting your appreciation for an entire year's worth of hard work, you'll want the space to say something extra special.

With Giftogram digital gift cards...
You've got all the room you need to write an inspiring and heartwarming message to the employees that make your mission possible. Plus, our team beautifully designs your email to complement the look of your gift card, so your gift comes beautifully presented - even in an email inbox!

This year, give MORE with Giftogram
Watch this short video to see why Giftogram is the best solution for your corporate gift this holiday season.
Even in a year marked by supply chain issues and shipping delays, the perfect gift is more than possible when you choose Giftogram.
Empower employees to choose their favorite gift from 200+ retailers
Get free, same-day digital delivery, no matter the size of your order
Save big with no shipping fees, packaging fees, or markups
Spend 100% of your gift budget on delighting your employees
Access top-rated support whenever you need a hand
Ready to get started? Contact our customer success team or sign up for a free Giftogram account.