Since 2012, Giftogram has been helping businesses of all sizes and across all verticals power their corporate gift programs with digitally delivered employee rewards and consumer incentives.
Over these years of working with organizations on their corporate gift programs, one need came up over and over. It became clear that many of you had a real need for physical branded gift cards, not just digitally delivered gifts, which offered the same universal choice that Giftogram has become known for.
Enter the all-new Giftogram
We have been manufacturing custom branded gift cards and greeting cards for 20+ years – it just made sense. Our software teams and our production teams got together (they get along better than you'd think) to figure out the best way for our clients to order physical gift cards with a company logo and redeemable for a gift card from our selection of nearly 200 retailers.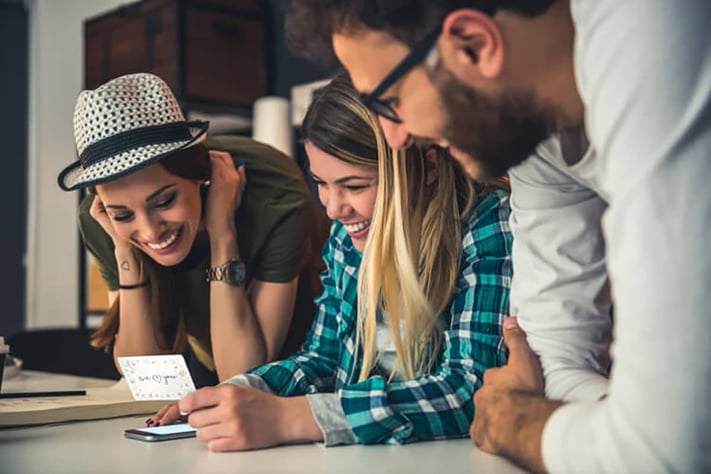 The end result is an easy-to-use, corporate gift card solution for organizations looking to motivate employees or reward customers.
With hundreds of pre-made gift card designs to choose from and a new drag-n-drop designer you can quickly and easily create branded gift cards for your next gift card program. Your customers and employees alike will love the same freedom to choose the gift card that they want.
There's no guesswork
Each Giftogram is redeemable for gift cards at hundreds of today's most popular retailers. One card can be used to receive anything from an Amazon gift card to a gift card for Target, Best Buy, Home Depot, and a whole lot more. With a gift that can satisfy nearly any taste, age or demographic, it's the perfect way to give staff appreciation gifts or the best client gift ever — even if you have a large, varied bunch.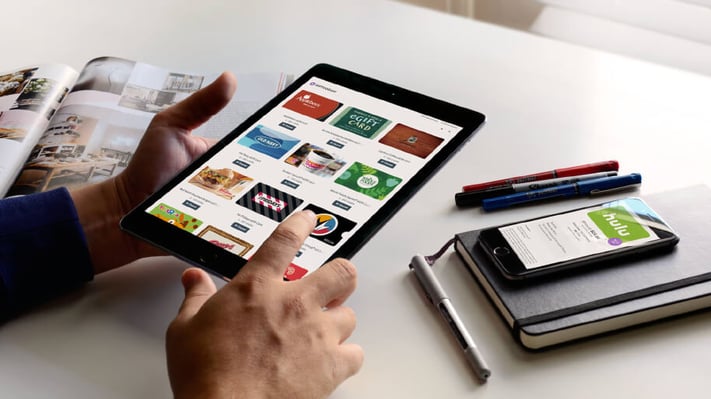 No longer estimate or compromise on your rewards to motivate employees or customer appreciation gifts.
The wide variety of retailers your employee or consumer can choose from lends itself to nearly universal appeal. There is quite literally something for everyone.
Think of everything that you can get done with all this time you'll be saving not searching for creative business gift ideas (like you're probably doing right now).
Make them your own
We've made adding your logo to premade Giftogram cards easy. Simply pick out a design, upload your logo and add it to your gift card. You can easily move or resize your logo to get it placed just right. Want to get really creative? The elements of each design are moveable too so you can make your gift card design one-of-a-kind.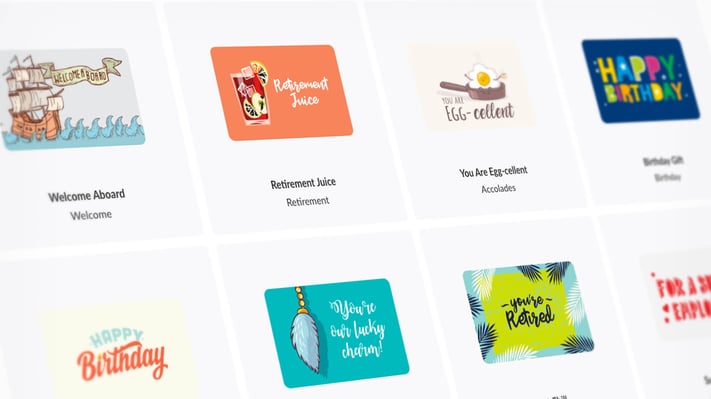 Want a more personalized employee gift? Add a custom greeting card with your own printed message inside. We'll even affix the gift card for you.
Our gift card design library has hundreds of options to help you celebrate birthdays, anniversaries and retirements, as well as corporate holiday cards, business thank you cards, and beyond.
We made it easy to save you time
You were asking for a simple way to buy bulk gift cards and we spent over a year coming up with the perfect solution.
Create a design in just a few clicks, save it to your design library and the next time you need gift cards for that important employee incentive program or those last minute client gifts, you can order them in one-click. Most orders ship in 1-2 days and we offer free FedEx Ground shipping anywhere in the continental United States.
You like fast and easy, right?
How will you spread some employee joy and consumer happiness today?
Giftogram can help you by creating powerful employee rewards programs and standout corporate gifting programs.
Gift cards, not guesswork.