Employees enjoy the ability to appease their appetite with midday treats that don't cost them a dime, and employers benefit by creating an environment that encourages their staff to stick around in more ways than one.
The Amazing ROI of Free Office Snacks

Company Curb Appeal
When you're trying to land a prospective hire, a post-interview office tour that touts a fully-stocked kitchen puts your company at an advantage. This perk rings especially true for cash-strapped millennials who appreciate saving on food since college loans can make a serious dent on their weekend budget.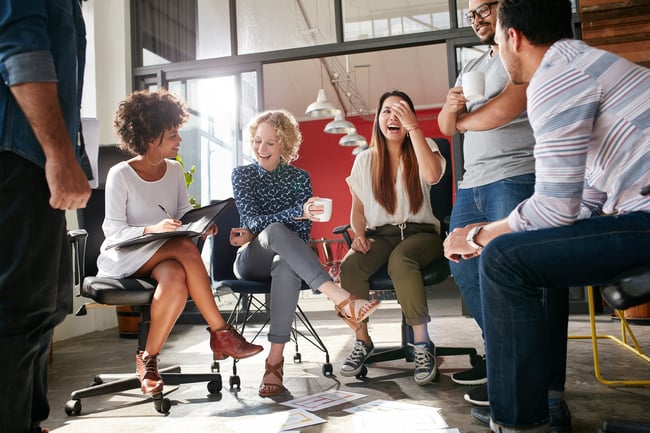 A Boost in Productivity

Imagine all the time employees spend stepping out to buy a bite to eat because their office doesn't offer snacks. According to a recent survey, those coffee runs add up, with snack-supplying companies reporting a 12% increase in employee productivity since stocking up on food and drinks for the office.
Happier Employees
A survey of 1,000 full-time employees shows that employee happiness increases when snacks and refreshments are part of office culture. Providing food perks shows that you appreciate your employees on a daily basis and can be connected to both engagement and retention.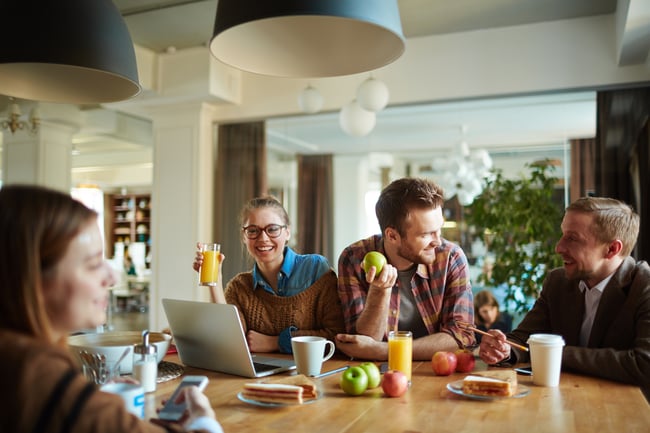 Healthy Employees

When you provide sustenance for your staff, you're able to make good diet decisions for them. Poor diet can affect employee performance by causing them to be sluggish, anxious, and out sick more often than others who are independently health-conscious.
9 Office Snacks Employees Will Love
Keeping your employees fed and refreshed throughout the day doesn't have to cost a fortune. Here are some affordable, easy offerings that will satisfy everyone on staff year-round.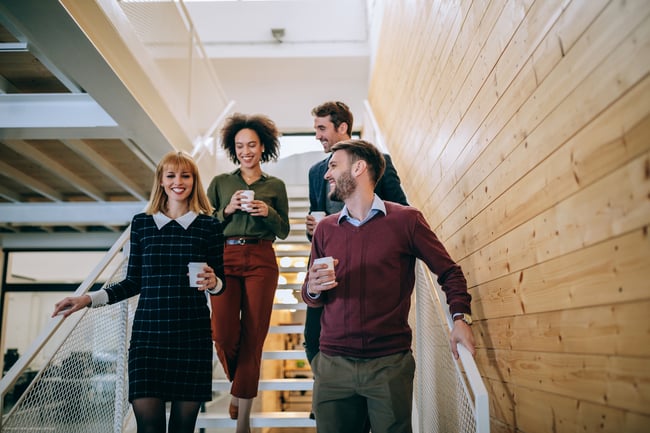 Morning Brew



Serving coffee at the office shortens commute times for employees who typically pop into a cafe on their way to work, not to mention saves them at least a few bucks per day. Be sure to pair your pop-up coffee bar with healthy creamer alternatives like 2% milk and dairy-free almond milk and consider including a selection of tea for those who prefer to keep their coffee consumption to a minimum.
Energy-Boosting Bars
From protein-packed fuel to guilt-free indulgence, energy bars come in all kinds of flavors and forms that can offer a much-needed midday pick-me-up to everyone at the office.
Fresh Fruit
Rich in vitamins and nutrients, fruit like oranges, apples, bananas, and grapefruit can satisfy a sweet-tooth without the crash. If you prefer food perks with more staying power, you can also opt for dried fruit without losing those valuable effects.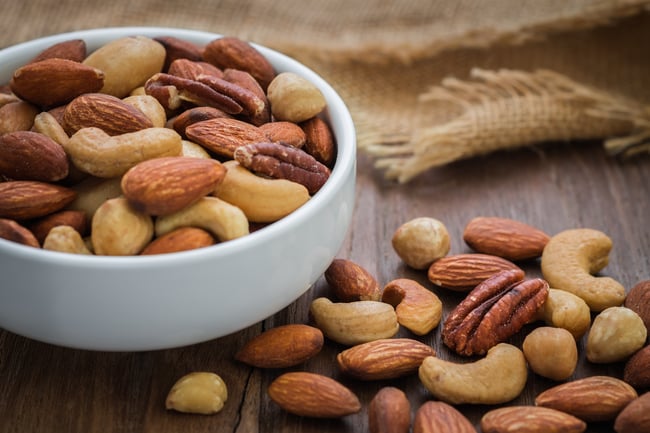 Assorted Nuts
Nuts are plant-based immunity-boosters that can help employees stay healthy, especially when contagious colds begin to travel around the office in the winter months. Not sure what type of variety to serve? Check out the special benefits of 8 different kinds of nuts you can find in snack packs at your local store.
Soda Alternatives
High in sugar, or even worse - aspartame, an office soda machine is detrimental to employees' health. Stop the soda-a-day bad habits by offering refreshing beverages without the bad stuff like seltzer, flavored water, coconut water, and kombucha.
Low-Calorie Snack Packs
Too much of a good thing is, well, too much. Fortunately, you can stock 100-calorie snack packs that offer the deliciousness of popular treats without the obvious downside. Packaged in smaller servings and made with the intention of cutting out the calories, these treats offer the deliciousness of Oreos without the guilt.
Protein-Packed Jerky
Instantly filling and delightfully low calorie, jerky is the perfect snack to push employees through the late afternoon slump. Jerky comes in many varieties, from plain beef and turkey to a plethora of seasoned and marinated flavors.
Greek Yogurt
Its low-fat high-protein combination makes Greek yogurt a great snack for the office. Available in lots of tasty fruit flavors, you can stock the fridge with Greek yogurt as an alternative to high-sugar premade smoothies.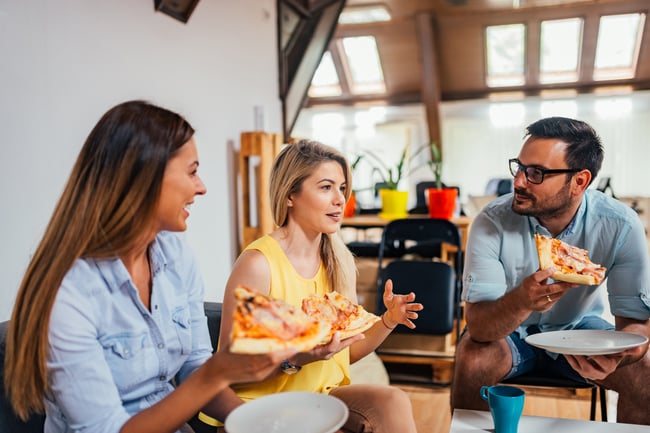 Lunch or Dinner on Demand
Covering an afternoon or evening meal is the perfect way to say thank you for hard work and long hours. Corporate delivery services like Seamless take the hassle out of ordering in by enabling employees to view a menu from a local restaurant and choose their own meal within any budget limit you set per person.
Keep It Fresh
To ensure employees don't become fatigued over particular food offerings, send out quarterly surveys to find out what they love, what they can do without, and what they'd like to eat. This will enable you to avoid wasting your budget on snacks that go uneaten and instead put those funds into foods that make everyone happy.