Celebrating employee birthdays is more than just a nice thing to do. Employee appreciation is a pillar of your company culture, and what better way to say, "We appreciate you," than to mark each employee's special day with a birthday gift?
Employee Birthday Gifts: Handpicked or One-Size-Fits-All?
While taking the time to find that perfect gift for each team member may feel right, it's not a sustainable process. Think about all that's involved, from finding out Jake's favorite video game and making sure he hasn't already scooped up the latest version to seeking out the best deal online so you can stay within budget. Not to mention, some employee birthday gifts will likely cost more than others, which can be tricky if team members size up one another's gifts.
Plus, who's doing all of this detective work? Busy managers? Human resources leaders who can barely check off their daily tasks to begin with? When you explore the idea of one-off gifts for employees a little further, the answer is clear: it's just not realistic.
Now that doesn't necessarily mean you can't choose a one-size-fits-all employee birthday gift that truly does the trick. From spend-anywhere Giftogram gift cards to traditional gift cards and snack baskets, go-to corporate gifts are designed to streamline the gifting process when you've got a big group. The key is choosing the type of birthday gift that makes your team members feel valued while minding your budget and resources at the same time. This may feel like a tall order but read on to see just how easy it can be to pick the right gift.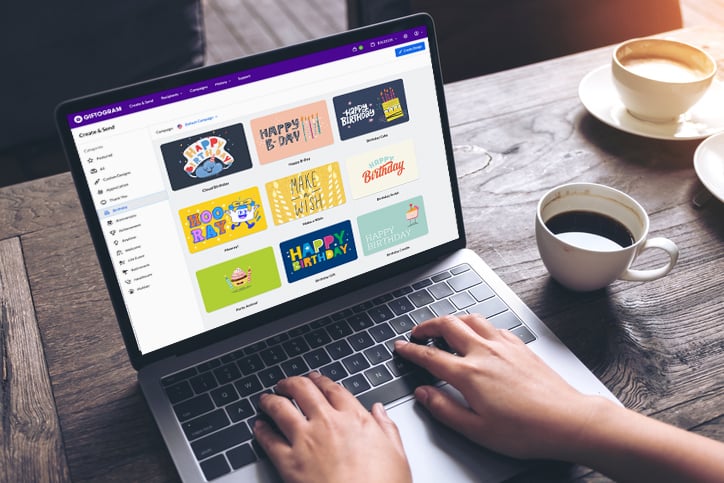 Choosing The Right Employee Birthday Gift
Narrowing down your gift options is pretty straightforward when you consider what's involved in gifting your employees. In addition to choosing a thoughtful gift they'll love, you should also factor in rising shipping costs that reduce your gift budget and supply chain issues that could cause gifts to arrive well beyond their intended delivery date.
Giftogram is the one-size-fits-all gift that's always a hit, and here's why. With Giftogram digital gift cards, you can avoid shipping fees, surcharges, and unexpected delivery delays.
Best of all, you can lean on the Giftogram team to help you create an account, pick your design, and set up your employee gifting program to automatically send gift cards to employees' inboxes on their special day.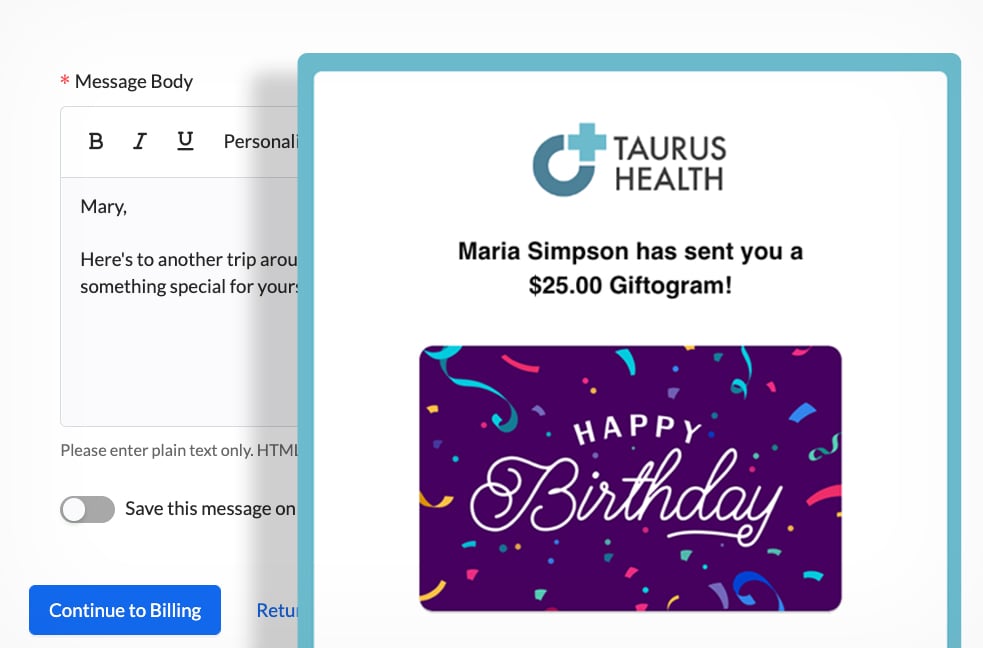 Making Each Employee Birthday Gift a Meaningful One
Personalization lives at the heart of employee birthday gifts that truly hit the mark. That's why the Giftogram platform is packed with personalization features to make your employee gifts your own, including:
Festive birthday designs

you can choose (Or upload your own)
Brand your employee birthday gift cards by adding your logo for free
Write a personal email message to employees on their birthday
Let employees pick their perfect gift from over 200 retailers
Personalization feels even more authentic when your gift cards are tailored to recipients by the people closest to them. Managers can choose designs and write personal messages that best resonate with their team.
Start Your Employee Birthday Program Today
Give the perfect gift, every time, right on time! Create an account online or call our team at (973) 887-1600, and we'll help you get started.